Nigel Edwards appointed Walker Cup captaincy
Last updated on .From the section Golf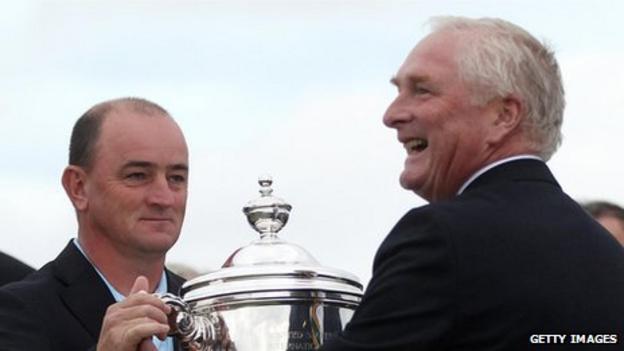 Nigel Edwards has been handed the captaincy of Britain and Ireland Walker Cup team for a third time.
"Captaining the winning side in the Walker Cup was truly fantastic," said Edwards, who played in four successive Walker Cups from 2001 to 2007.
"And to be given the chance to be part of this special event again is a great honour."
The Welshman will be the non-playing captain again for next year's St Andrews Trophy match against the Continent of Europe at Pormarnock near Dublin.
And he will also skipper at the 2013 Walker Cup contest at the National Golf Links of America on New York's Long Island.
"I am looking forward to being involved with the selection and preparation for 2013," added Edwards, who earlier this week was named as England's new director of coaching.
"The experience shared by this year's team will stay with all of those involved for the rest of their lives.
"I will use my own experience as a player and captain to ensure that the next team is fully prepared to play to the best of their ability and make the most of their own Walker Cup experience."
The Royal and Ancient Club's chief executive Peter Dawson said: "Nigel proved himself to be as good a captain as he was a player and has already secured his place in Walker Cup history.
"His experience, not only of team golf but of the wider amateur game, will be a tremendous asset as he prepares teams."