Luke Donald's PGA Tour money list chances fade in Florida
Last updated on .From the section Golf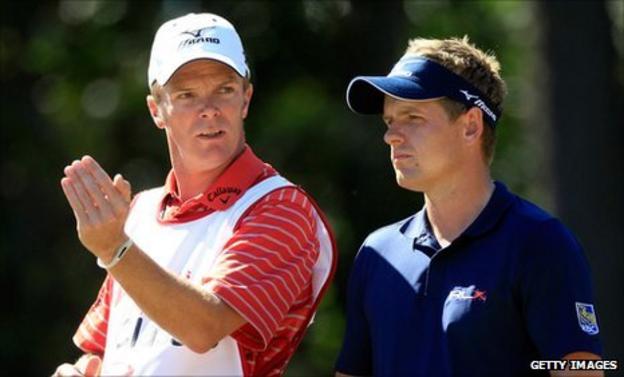 Luke Donald saw his chances of winning the PGA Tour's money list get slimmer despite a one under par 71 at the Disney Classic in Florida.
The Englishman was in a tie for the first-round lead, but is now five shots off the pace at the halfway stage.
American Justin Leonard, South Korean Bio Kim and Sweden's Henrik Stenson share the lead on 12 under par.
Donald's rival for the money list title, Webb Simpson, shot a 69 to join Donald at seven under par.
Simpson currently leads Donald by $363,029 (£229,724) in the standings. If Donald wins the top prize of $846,000 (£535,347) Simpson would have to finish alone in second for $507,600 (£321,208) in runner-up money to deny the Briton the title.
Donald's first round 66 came on the Palm course, which is scoring lower than the neighbouring Magnolia course.
His second round 71 included birdies at the 10th, 11th and 15th holes, but he dropped shots at the seventh and 14th.
He is hoping to become the first player to top both the European and US money lists in the same season.
"It was very ugly. It wasn't very good at all," Donald said. "Obviously, it's not the hardest course in the world, but I didn't do many things well.
"It's disappointing, but sometimes you're going to have rounds like that. I'm going to have to go pretty low on the weekend.
Donald leads Northern Ireland's Rory McIlroy by more than one million euros (£870k / $1.37m) in Europe's Race to Dubai, with two months remaining.
Leonard, the 1997 Open champion, produced the best round of the tournament, a 63 on the Palm course, which rocketed him up the leaderboard from 28th to co-leader.
Stenson returned an eight under 64 at the Palm course, while Kim shot a seven under 65 at Magnolia.
England's Justin Rose and Brian Davis both missed the cut after finishing at level par.