Rory McIlroy's ISM split not down to me - Graeme McDowell
Last updated on .From the section Golf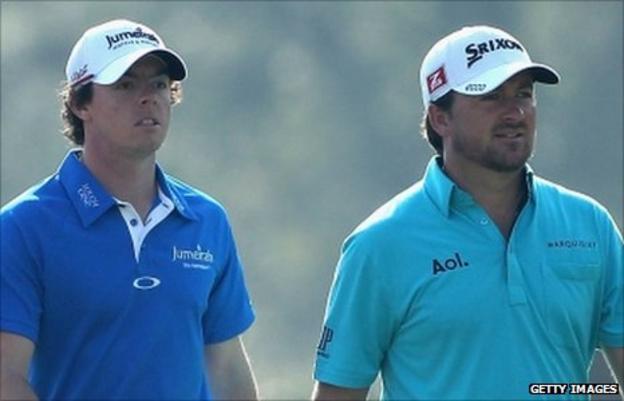 Graeme McDowell insists he played no part in close friend Rory McIlroy's decision to change management teams.
McIlroy, 22, split from Andrew "Chubby" Chandler's International Sports Management (ISM) group last week to join McDowell at Dublin's Horizon.
"I've heard I'm supposed to have enticed Rory, well I purposely took a back seat in it all," McDowell said on the eve of his Andalucia title defence.
"Rory makes his own decisions. I certainly wasn't going to sway him."
Northern Ireland's McIlroy, who won his maiden major at the US Open earlier this year, said of the switch: "I am now keen to move onto the next stage of my career and I feel this will be facilitated by a fresh view and a new structure around me.
"Chubby and his team have played a very important role in my success to date. I have made great progress under their management and for that I will always be grateful."
McDowell, the 2010 US Open champion, made a similar switch from ISM to Horizon earlier in his career.
"I went through the same process three or four years ago and it was very amicable. Rory's split seems pretty amicable as well," said the Northern Irishman.
"That's life, it's business, not personal. We are one big travelling circus out here and it pays to get on with each other."
He added: "I've never known any rifts to be catastrophic between players and management companies. It's a long career, we're not going to burn bridges and fall out with people."
McDowell, who has had an indifferent year following his US Open success, conceded he would now be taking a back seat at Horizon.
"I've been number one but Rory is now," he said. "I'm happy about that. I hope he'll drive me on."
McIlroy's former ISM stablemate Lee Westwood labelled his Ryder Cup colleague's decision to switch management teams "bizarre".
Ironically, the pair have been drawn to play together in Thursday's first round at the Shanghai Masters exhibition event in China.
"They'll want to be out there and beat each other up, obviously from a golf point of view," said McDowell.
"Bizarre is Lee Westwood's opinion. Perhaps Rory just wants a different view on things, the way his business life is run off the golf course.
"It's Rory McIlroy's decision, he's a very smart kid."