Rory McIlroy says decision to leave Chandler was 'very difficult'

By Iain Carter
Radio 5 live golf correspondent
Last updated on .From the section Golf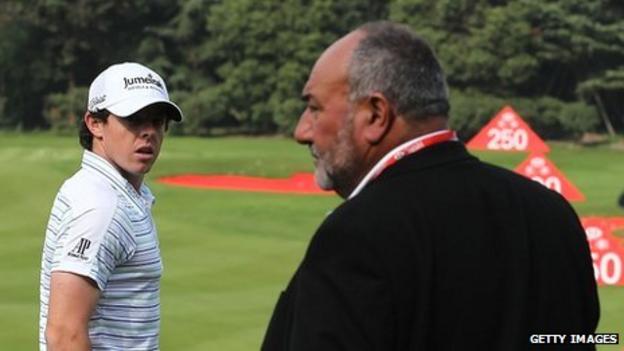 Rory McIlroy says his was "a very difficult decision to make".
McIlroy, who won his first major at the US Open in June, announced last month that he was leaving Chandler's International Sports Management (ISM) for Dublin-based Horizon.
"Chubby has been there for me since day one," the 22-year-old told BBC Sport.
"It was very difficult for me - I was very close to him and remain very close to him."
The Northern Irishman, who on Sunday and is competing in the WGC-HSBC Champions in the same city this week, said he had thought long and hard before making the decision.
"It was a purely business decision and nothing personal at all," he said.
"It's a decision that I didn't take lightly. I had a lot of chats with my mum and dad.
"You know sometimes to go forward in your career you just need to make decisions and I just thought it was a decision I needed to make.
"For four years, Chubby was the best guy and ISM were fantastic for me, but sometimes to progress you need to have a fresh view on things.
"It's about me trying to play my best golf and that's all there is to it. With a new environment around me, it might enable me to play even better."
On Tuesday, McIlroy bumped into his former manager on the range at the Sheshan Golf Club and there appeared to be no hard feelings between the two men.
"We've both already moved on," said Chandler. "We shared a laugh and a couple of jokes, had a chat and were fine, just like I knew we would be. I wish Rory nothing but the best."
Meanwhile, ISM client Lee Westwood was quick to praise Chandler's stewardship when asked to comment on McIlroy's departure.
"The service that they have given me has been very good," the English world number two told BBC Sport.
"I think it is important you have somebody that you can get on with as a manager."
Westwood tweeted that McIlroy's was a "bizarre decision" when his stable-mate announced he was leaving ISM on 21 October.
But he added: "I was pretty surprised, but not completely shocked. He [McIlroy] has always kind of done his own thing."
In his first tournament under new manager Conor Ridge, world number three McIlroy triumphed for the first time since his US Open victory when he won the Shanghai Masters.
Now McIlroy is aiming for back-to-back wins in the Chinese city - and with a first prize of nearly £750,000 up for grabs, he could make significant inroads into the £1.13m advantage of the absent Luke Donald in the Race to Dubai.
McIlroy said: "He [Donald] has obviously got a huge lead and if I could just get it somewhat close going into the last event in Dubai I would be happy. I know I will need to play well this week."
World number one Donald is at home in the United States awaiting the imminent arrival of his second child.
Tiger Woods, winless in 2011, failed to qualify for the 78-man event because the field is largely drawn from champions from tours around the world.
Four-time major winner Phil Mickelson is also absent because he does not want to play three weeks in a row and with the Presidents Cup in Australia looming, he has already committed to play in Singapore next week.