Tiger Woods' former caddie apologises over race remarks

By Iain Carter
BBC golf correspondent
Last updated on .From the section Golf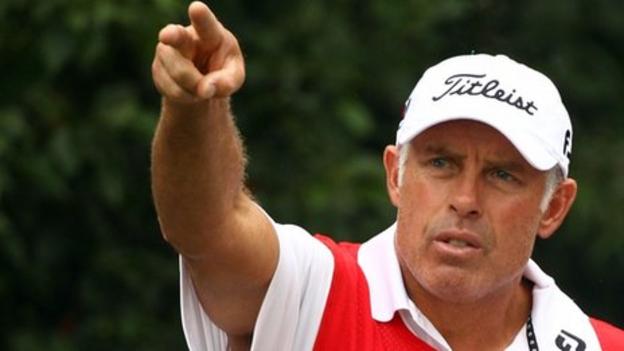 Tiger Woods' former caddie Steve Williams has apologised to his ex-boss for comments which he admitted could be "construed as racist".
Williams, sacked by Woods in July, was speaking at an awards dinner in China.
He later said: "I now realise how my comments could be construed as racist. That was not my intent. I apologise to Tiger and anyone else I have offended."
Woods' manager Mark Steinberg said: "It's a regrettable comment and there is nothing that Tiger can do or say."
Steinberg, who is with Woods in Australia as the former world number one prepares for the Presidents' Cup later this month, added: "We got multiple calls from people who sounded like they were leaving the caddie party.
"Tiger obviously wasn't there. He doesn't know exactly what was said. But if multiple reports - which all seem to be accurate - are true, then it's sad it's come down to this."
Williams, who now carries Adam Scott's bag, made the comments at the annual caddies' award dinner in Shanghai on Friday.
The duo are in Shanghai for the WGC Champions event and, after finishing his third round on Saturday, Scott defended his caddie.
The Australian pointed out that the comments were made at a private party and were not meant to leave the room. He added that Williams's apology should be accepted.
"Steve issued a statement and apologised and did the right thing," said Scott.
"That's all there is to say from my side of things. He did the right thing and it is not an issue for me.
"I disagree that he should be sacked. I think everything in that room was all in good spirits and bit of fun and I think it probably got taken out of that room in the wrong context.
"Anything with Tiger involved is a story, but I value Steve's contribution to my game and, while he is caddying, I hope he can caddy for me."
When asked if he thought Williams was a racist, Scott replied: "I think we all know that's not the case."
Williams caddied for Woods from 1999 until earlier this year and shared in 13 of the former world number one's 14 major victories. It is estimated he earned $12m (£7.5m) working for Woods.
After the pair split the New Zealander teamed up with Scott and the pair won the WGC Invitational in Akron in August.
Williams won the tournament seven times with Woods but after the victory with Scott, he said: "It's the greatest week of my life caddying - and I sincerely mean that.
"It's the most satisfying win I've ever had, there's no two ways about it."
He was awarded a lighthearted accolade for "the best celebration of the year" at Friday's awards dinner and it was when he was asked to elaborate on that celebration that Williams made the comment.
Caddies, players and officials attended the event at the Shanghai hotel which is serving as the base for the WGC Champions tournament.
Williams added in a statement on his website: "Players and caddies look forward to this evening all year and the spirit is always joking and fun."
Responding on behalf of the HSBC Champions tournament, spokeswoman Michele Mair said: "This was a private function. There will not be any further comment on this matter."
Scott and Woods are scheduled to play in next week's Australian Open and it was expected they would be paired together for the first two rounds.
They are also scheduled to be on opposite sides in the Presidents' Cup at Royal Melbourne the following week.