Tiger Woods' caddie Steve Williams not a racist, says Greg Norman
Last updated on .From the section Golf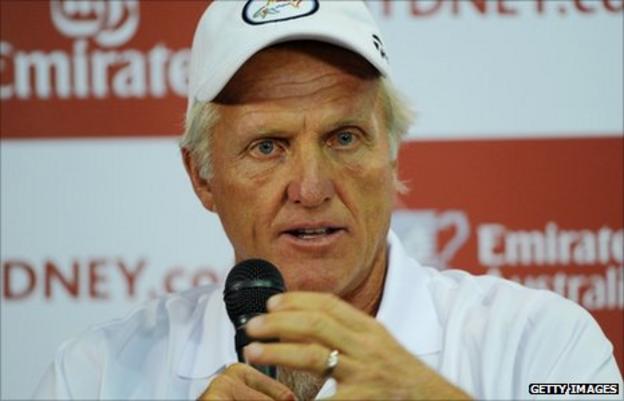 Australian Greg Norman says his former caddie Steve Williams is not a racist following his comments about ex-boss Tiger Woods.
"Steve's not a racist," said Norman of Williams who made his comments at the annual caddies' award dinner on Friday.
"His stupid comment became news - he probably regrets it. I guarantee there were heavier things said that night."
Williams caddied for Woods from 1999 until earlier this year and shared in 13 of the former world number one's 14 major victories.
Former world number one Norman added: "Because of the temperature of what was going on between the two of them, anything that was said was going to exacerbate that feeling.
"I hope it gets resolved. Golf doesn't need it, golf needs Tiger back playing great golf the way he used to.
"Golf needs the cohesiveness that's always existed. There's always been underlying currents, not everybody loves each other, and if we dislike each other, we just have a tendency of parting our ways and not seeing each other.
"To have it played out the way it has has been sad for the game of golf."
World number eight Scott and Woods will meet in Sydney for this week's Australian Open, but tournament director Tony Roosenburg has said the pair will not play together on the opening two days.
"It has nothing to do with the incident that was spoken about over the weekend. It was never going to happen anyway. No chance," Roosenburg told Sydney's Daily Telegraph.
Norman, who will captain the international side at the Presidents Cup next week when Woods and Scott will face each other again on opposite sides, agrees with Scott's decision to back Williams and continue working with him.
"Adam's a professional," said Norman. "Whatever Steve's said was Steve's opinion, not Adam's.
"Steve obviously does a great job for Adam because Adam's been playing some great golf since Steve's been on his bag. I don't think there's any issue between Tiger and Adam at all."
But Norman acknowledged there could be some awkwardness when Woods crosses paths with Williams in Sydney.
"Does he [Woods] like to hear the things that run around? No, of course he doesn't but he's a strong-minded professional and I don't see him having problems with it at all," said Norman.
"He'll walk by Steve and who knows what happens? He'll have prepared himself in his mind much as Steve has prepared himself in his mind, so it's all done, it's been said, it's in the past."
For the latest updates and reaction to this story read Sportsday Live. Have your say on Twitter via the hashtag #bbcsportsday.