English men's and women's amateur golf bodies vote to merge

By Iain Carter
BBC golf correspondent
Last updated on .From the section Golf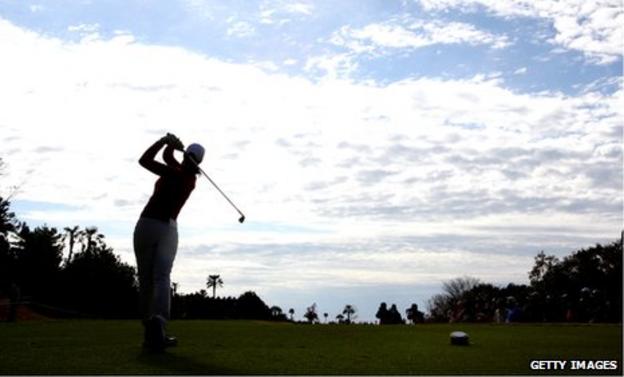 The organisations running men's and women's amateur golf in England are to merge after delegates voted overwhelmingly in favour of the move.
The English Golf Union will join with the English Women's Golf Association to create a single governing body.
A new organisation called England Golf will take over the duties of the EGU and EWGA from 1 January, 2012.
The merger is being presented as a key step in trying to rid golf of a sexist, elitist image.
In simultaneous ballots of delegates from both bodies, 86% of EGU county representatives voted in favour of the merger at a meeting at their headquarters at Woodhall Spa in Lincolnshire, while there was unanimous support for the move by the EWGA, who met in Birmingham.
A 75% majority was required by both bodies for the proposal to succeed.
EGU chief executive John Petrie had anticipated a "very, very close vote" but was boosted by the support of Yorkshire delegates, the county that carried the largest influence.
"The merger is in the best interests of golf and we are delighted it has been given overwhelming support by our members," said a joint statement from EGU chairman Nigel Evans and EWGA interim chairman Sylvia Perrins.
"English golf will speak with one voice and send out a powerful message that golf is a game for all, for men and women, boys and girls."
Opponents of the merger believe the move gives disproportionate power to women's representatives because their male counterparts will have only a 60-40 advantage in policy voting despite the fact that male golfers in England outstrip women by a ratio of up to seven to one.
There was also a feeling that the current system was working well, as evidenced by a steady stream of world-class English golfing talent.
But the management of both bodies were keen for the merger because they feel golf is still perceived as sexist and elitist. This year's Open Championship was held at the men-only Royal St George's club at Sandwich in Kent.
"A united organisation, which promotes both the men's and women's game, will be more attractive to new golfers," the joint statement added.
"It will help us grow, will be more appealing to commercial partners and sponsors, and means we can be more cost-effective."
The vote is the culmination of a two-year period of consultation after a steering group was set up in 2009 to examine the feasibility of a merger.
England Golf will be based at the current EGU headquarters at Woodhall Spa and the new organisation's first president will be a woman.