Virus hits Rory McIlroy Dubai World Championship hopes

By Iain Carter
BBC golf correspondent
Last updated on .From the section Golf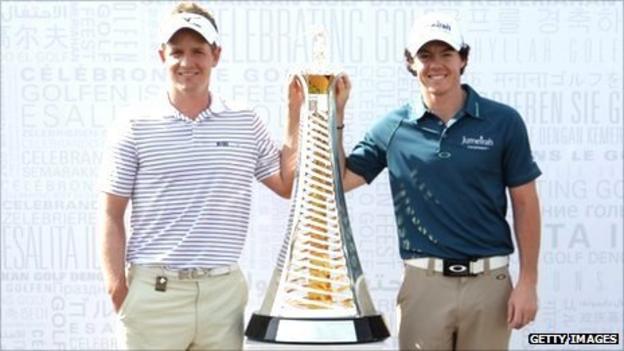 Rory McIlroy is suffering from the effects of a virus as he seeks to top the European Tour's money list.
He now needs to win this week's season-ending Dubai World Championship and hope Race leader Luke Donald finishes outside the top nine.
"I visited the doctor yesterday," McIlroy revealed. "I won't get the results back until later in the week."
The 22-year-old from Northern Ireland picked up the virus on a recent holiday to the Maldives.
The illness has drained his energy as he looks to win what is now a two-man race for the earnings title.
"My white blood-cell count was very low after the Maldives and Dubai when I had a couple of weeks off. So we want to see if the blood counts have gone back up again."
McIlroy appeared exhausted when he spoke to reporters ahead of playing in Tuesday's pro-am event on the Earth Course at Jumeirah Golf Estates.
"I'm not energy-wise where I want to be," he said. "I'll probably take off another day tomorrow and really try to conserve my energy and focus that all into the four tournament days.
"I'm not 100%, but I'm still able to go out and play 18 holes and try to give it my all."
McIlroy is attempting to stop Donald from making history by becoming the first player to win the money lists in America and Europe. Donald has so far amassed 3,856,394 euros (£3.3m), while the only man who can catch him has banked 3,066,605 euros (£2.6m).
Winning the Dubai World Championship is worth 922,645 euros (£791,000) and nothing less will do for McIlroy if he is to overhaul the world number one. "I need to play very well to beat a top-class field," the US Open champion said.
"The top four players in the world are here, the top 60 in Europe, so it's going to be a very tough ask. Luke has not finished outside the top nine very often this year."
Only the leading 60 money earners on the European Tour are eligible for the Dubai World Championship.
Justin Rose has pulled out of the tournament to be with his wife, who is expecting their second child. Sweden's Freddie Jacobson has withdrawn through injury.