Rory McIlroy has more talent than Tiger Woods says Luke Donald

By Iain Carter in Dubai
BBC golf correspondent
Last updated on .From the section Golf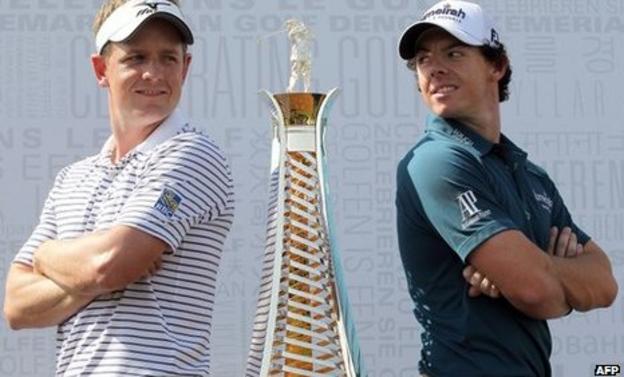 Luke Donald believes Rory McIlroy is more talented than Tiger Woods.
World number one Donald tees off with McIlroy in golf's Dubai World Championship first round on Thursday.
And he said: "In terms of talent I think Rory has more. I think Tiger's work ethic has always been tremendous and his mindset as well."
Donald will win the Race to Dubai - and top both the European and United States money lists - as long as he finishes ninth or better.
But his comments regarding McIlroy and Woods have caused a stir. Donald later clarified his comments on Twitter, saying: "A few people aren't understanding what I meant."
He said he meant 'talent' in the context of McIlroy's "free-flowing swing" and the way he "makes everything look so easy".
But he added: "Tiger Woods has always been the best at getting the ball in the hole when it mattered the most.
"That's not just talent, that's something else too. Talent can only take you so far, you need the right attitude (mindset) and application to perform at the highest level."
The Hemel Hempstead-born golfer has already won the PGA Tour's money list and is determined to ensure in the season-ending event at Jumeirah Golf Estatesbe that he becomes the first player to top both US and European lists.
He told BBC Sport: "[Topping both lists] means the most. Forget the money, forget all the trappings of golf. To do what no-one else has done is what we all practise for.
"It would be very special if I could pull it off."
Donald said he was not surprised when McIlroy holed his bunker shot at the final hole to win the Hong Kong Open last Sunday, a result that keeps alive the Northern Irishman's own hopes of claiming the £960,000 ($1.5m) prize for winning the Race.
"I fully expected Rory to play well and put some pressure on me," Donald added.
"I've always said I think that, of the guys I've played out here on tour, Rory has the most talent that I have ever played with."
Donald has risen to the top of the world rankings and both money lists through sheer consistency, finishing in the top 10 in 19 out of the 25 tournaments he has played and winning four of them.
Donald's recent focus has been away from the course, however, with first the death of his father and then the birth of his second child.
He said: "I lost a good friend in my dad and someone who I think brought me up in a proper way.
"He was never really as concerned about my golf as he was bringing me up as a decent person.
"I think the birth of my second daughter did spread a little grace on the situation. It was not easy but I was able to concentrate my efforts on a new life - and my kids and family made everything a little bit closer."