Rory McIlroy's coach Michael Bannon wins PGA's of Europe award
Last updated on .From the section Golf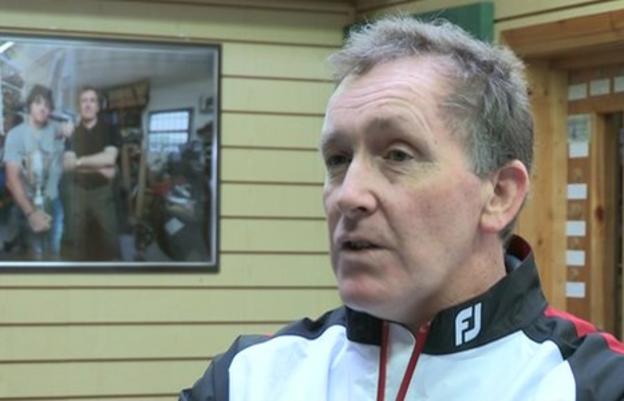 Rory McIlroy's coach Michael Bannon has been named the inaugural winner of the PGAs of Europe John Jacobs Coach of the Year Award.
McIlroy has been coached by the Bangor head professional since he was eight years old and the duo continued to have a close relationship.
Bannon received the honour at the PGAs of Europe's annual awards in Portugal.
"I'm especially thrilled at receiving a trophy named after John Jacobs who was a coaching role model," said Bannon.
The accolade follows McIlroy's stunning rise to the top of world golf which was cemented earlier this year with his maiden major victory in the US Open at Congressional.
"It is very humbling to be honoured in this manner," added Bannon.
The 53-year-old was a fine player in his right having once finished runner up to Padraig Harrington in the Irish PGA Championship at Powerscourt in 1998.
Bannon regularly travels with McIlroy working constantly to evaluate the 22-year-old's swing as he bids to add more major titles to his CV.
During a coaching conference at the PGAs of Europe event on the Algarve, Bannon took part in a question and answer session and delivered an insight into McIlroy the golfer.
"Rory gathers good people around him, people he can trust," explained Bannon.
"He's also very strong mentally and has always sought the next level.
"He always wants to talk to and play with the good players to see what he can learn from them. Even as a young boy he used to like to show what he could do.
"He has such unbelievable skills, and works on it so hard all the time, that I've had to improve my ability as a coach if I'm to help him."