Tiger Woods reveals appearance money decides his tour schedule

By Iain Carter
BBC golf correspondent
Last updated on .From the section Golf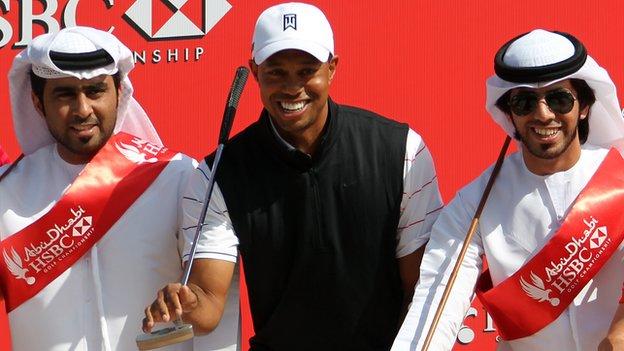 Tiger Woods has admitted receiving appearance money affects which tournaments he chooses to play.
He is rumoured to be getting more than $2m (£1.3m) to play in this week's HSBC Abu Dhabi Championship.
The former world number one has chosen to play in the Middle East instead of the usual PGA Tour season opener at Torrey Pines in California.
Asked whether the payment influenced his scheduling, Woods said: "I'd have to say yes, it certainly does."
He added: "That's one of the reasons why a lot of the guys who play in Europe do play in Europe, and they do get paid [appearance fees].
"I think the only tour that doesn't pay is the US Tour, but you know a lot of guys play all around the world and they do get appearance fees."
Woods won his last major title, the 2008 US Open, at Torrey Pines and in 12 Tour events at the San Diego course he has won on six occasions.
The only time he has finished out of the top 10 there was last year.
"Torrey has been a golf course I have enjoyed playing since junior golf. Unfortunately scheduling wise, it just didn't work out," Woods said.
In his last outing, the 14-time major champion won his own World Challenge tournament in California to record his first victory for two years.
And Woods insists he is the fittest he has been in around a decade heading into the new season.
"It's been quite a few years since I've been physically fit," he said.
"So I'm looking forward to getting out there and giving it a full season, which I haven't done in a while.
"It's probably been about eight, 10, 12 years [since] I felt 100% [fit]. I had surgery in 2002. I had surgery in 2008. A couple of others ones in there, too.
"I missed most of last year and then to finally be able to get ready for a tournament properly and to do the type of lifting that I think I need to do to be ready, I was finally able to do that.
"Hence my game came around, so it's very exciting.
"I played really well in my last three events, so I'm really looking forward to this year."
Woods headlines a strong field in Abu Dhabi that includes the top four players in the world - Luke Donald, Lee Westwood, Rory McIlroy and Martin Kaymer - as well as Open Champion Darren Clarke and Masters winner Charl Schwartzel.
Donald and McIlroy will play alongside Woods in the opening two rounds, while Spaniard Sergio Garcia completes a trio that features Westwood and Kaymer.