Lee Westwood rebuked by his mum after swearing on TV
Last updated on .From the section Golf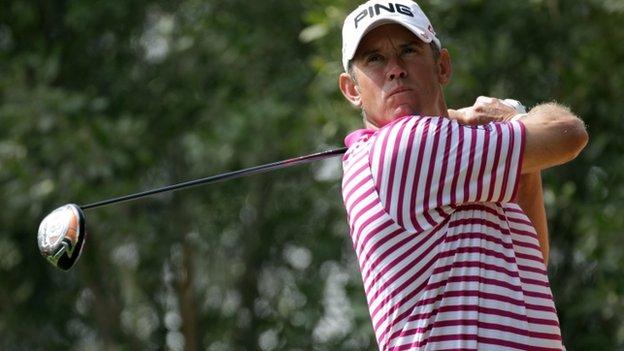 Lee Westwood has revealed his mother told him to apologise for swearing on live television at the Qatar Masters.
The 38-year-old world number three's outburst came on the 16th tee during Sunday's final round.
"My mum was the first person on the phone and she said you might want to apologise," Westwood said ahead of this week's Dubai Desert Classic.
"I didn't think that down at four-under I would be on TV. It's amazing how sensitive these microphones are."
The tournament was reduced to 54 holes and Englishman Westwood closed with a three-under-par 69 to finish in a tie for 12th behind tournament winner Paul Lawrie of Scotland.
Following the conversation with his mum, Westwood wrote on his Twitter account: "Sorry about swearing on the 16th tee. Came off like a rocket and thought it was going further! Wash my mouth out! Perils of live tv!"
Westwood, who finished in a tie for 17th in Abu Dhabi two weeks ago, also said he had mixed feelings about his early-season form.
"I've hit it a lot better than I normally do," he stated. "My putts are quite nice, I'm starting to roll a few longer ones in, but it's just been early-season sloppiness really, making too many bogeys and not making a birdie when I should.
"My wedge shots also haven't been quite as sharp as they ought to have been."