Lee Westwood relishing Rory McIlroy rivalry
Last updated on .From the section Golf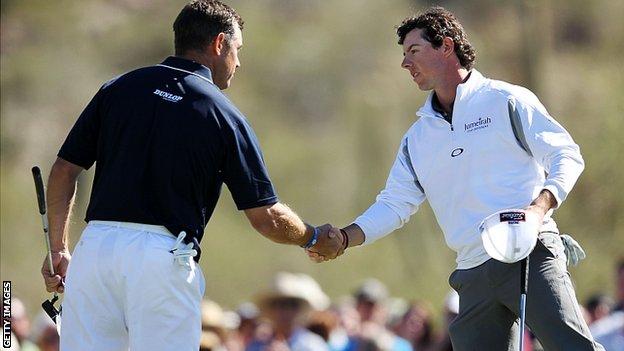 Lee Westwood says he is relishing his ongoing rivalry with Rory McIlroy as he prepares to partner Tiger Woods at the Honda Classic in Florida.
"If I'm going to have a rivalry, I would like it to be with Rory," said world number three Westwood.
"He's arguably the hottest player on the planet right now."
US Open champion McIlroy, 22, lost to American Hunter Mahan in the Match Play final to remain at number two, but with Donald absent this week, McIlroy can head the rankings if he wins at Palm Beach Gardens on Sunday.
Owing to the number of world ranking points on offer, Westwood will have to wait until next week's WGC-Cadillac Championship in Miami for his next opportunity to regain the top spot he relinquished to Donald at the PGA Championship at Wentworth last May.
"I've been around a long time now and there's been various rivalries thrown at me during my career," added Westwood, who will play alongside former world number one Woods and fellow Englishman Ian Poulter in the first two rounds.
"You learn through playing golf for a long time that the only thing you can control is your own game. That's all I try to do.
"One of us will get the better of the other, as I did in Dubai two weeks ago and then Rory did last week. That's just the way it is.
"I figure if I'm going to keep playing well and getting into contention for tournaments, Rory's pretty much going to be in a similar position, so we're going to be playing together a lot."
Woods, who is now 21st in the world, is still trying to get his pursuit of Jack Nicklaus's record of 18 major titles back on track.
The 14-times major champion conceded in Florida that his goal "would take a whole career" to accomplish and revealed he had been working hard on his putting as part of his ongoing swing reconstruction under coach Sean Foley.
But Woods' former coach Hank Haney has caused a stir with extracts from his new book "The Big Miss".
Haney claims Woods' desire to pass Nicklaus's record was taking its toll during their six-year partnership, which ended in May 2010, and that at one stage Woods was seriously considering joining the US Navy Seals.
Woods refused to be drawn on the book at his news conference in Florida.
Poulter, meanwhile, has also had to fend off criticism from Sir Nick Faldo who claimed he was preoccupied with social media site Twitter and promoting his clothing range.
The 36-year-old took time out to await the birth of his fourth child, but managed only 45th and 50th in his first two events back and then was beaten by Korean Bae Sang-moon in the first round at Dove Mountain.
The Englishman said on Twitter: "I'm honoured that people are talking that I'm not working hard enough on my game.
"I have to answer that question, though. I have never worked harder than I am right now - not only on my game, but on my health and fitness.
"There are areas of my game which we have looked at and are making big improvements on. It's just a case of them coming together.
"This game has a funny way of showing hard work sometimes, but it's showing. Trust me, I will deliver like I promised in the Ryder Cup and like I always do."