John Petrie calls for rethink over Charlie Hull ban
Last updated on .From the section Golf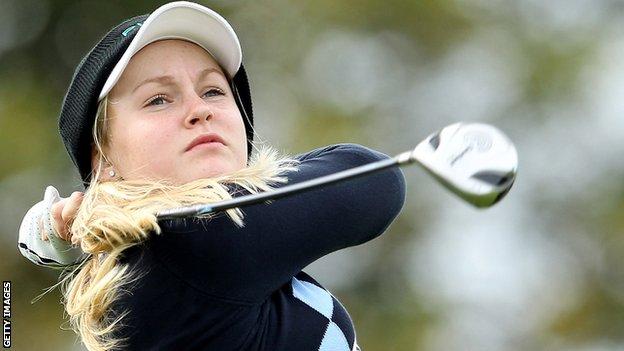 England Golf chief executive John Petrie has urged the Ladies Golf Union to reconsider omitting Charley Hull from this June's Curtis Cup.
Hull withdrew after an invitation to play in the first LPGA Tour major of the season, the Kraft Nabisco Championship.
"I hope the LGU has enough flexibility to revisit this," said Petrie.
Hull, who is currently ranked ninth in the amateur world rankings, is set to be one of only five amateurs competing in the Championship, which commences in California, on 29 March.
The Curtis Cup is a Ryder Cup-style event played every two years between female amateur players from the United States and the British Isles.
Head of LGU's Golf Operations Susan Simpson says that Hull was made aware of the consequences of missing the Curtis Cup trials in preparation for the tournament, which takes place between 8-10 June.
"We made it plain to the players that, if they didn't play in the training session, they wouldn't play in the match," said Simpson. "They signed an agreement,
However, Petrie believes that the chance for Hull to compete in a major was too good an opportunity to turn down.
"For a 15-year-old player, ranked ninth in the world, to be invited to play in one of golf's majors is an outstanding achievement," said Petrie. "For Charley to be punished for her success makes no sense.
"While player agreements are important, the aim is to win the Curtis Cup."
Hull, who is the English and Welsh strokeplay champion, was invited to play in the Kraft Nabisco Championship after winning the Harder Hall Invitational on Florida's Orange Blossom Tour.
The LGU released a statement on 1 March explaining that Hull can still attend the trials at Nairn, as well as competing in the LPGA Tour.
"The door remains open for Charley to attend the trial at Nairn and then travel to the USA for the Kraft Nabisco," it said.
"The LGU has again invited Charley to rethink her decision to withdraw and has indeed tried to reach a further accommodation with her, offering that she flies out to the US on the Sunday of the team trial, which would give her sufficient time to travel to the Kraft Nabisco which starts the following Thursday.
"To date there has been no reply to this suggestion."
Hull's place in the squad has been taken by Georgia Hall, who is 683rd in the amateur world rankings.