Rory McIlroy's rise to number one no surprise to Geoff Ogilvy
Last updated on .From the section Golf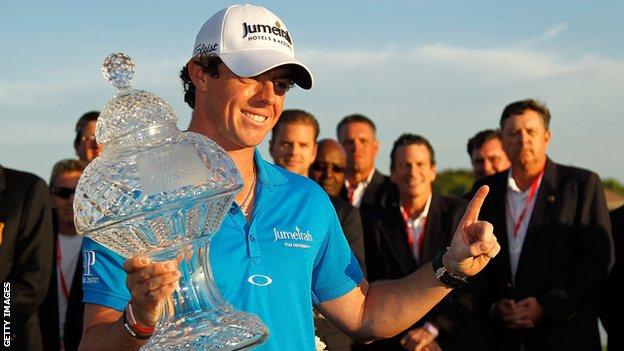 Rory McIlroy's ascent to world number one is no surprise to former US Open champion Geoff Ogilvy.
The Australian says he knew the golfing landscape was set to change when he played with the Northern Irishman for the first time in 2009.
Their first meeting saw Ogilvy beat McIlroy in the quarter-finals of the WGC Match Play in Arizona.
"Since that first day I saw him play, he was a level above us," said the 2006 US Open champion.
Ogilvy, who went on to win his third World Golf Championship that week, recalls riding back to the clubhouse with his caddie, Alistair 'Squirrel' Matheson after the match.
"I played so good that day,'' added Ogilvy.
"I birdied 15, 16 and 17 and halved all three holes. We were way under par that day.
"Both Squirrel and I said, 'This guy is going to be unbelievable'.
"And then Squirrel said:'If you want to be number one, you're going to have to be better than this guy'."
McIlroy's fellow Irishman and three-time major winner Padraig Harrington says there can be no debate about the 22-year-old's move to number one status after his Honda Classic victory.
"He's got a game that people think is world number one,'' said Harrington.
"That's why nobody is going to have any complaints about Rory being world number one.
"He won a major at a young age. He's got the game. Yeah, you can compare him with Tiger [Woods]. He's still got a lot to do. And there's no doubt that Tiger's 14 majors are very impressive.
"But if you're going to win a lot of majors, you've got to start winning them early.
"At 22 years of age, the world number one, a major in the bank, he's going to play a lot of majors where he'll be the favourite."
Harrington won his first major at Carnoustie in 2007, when an 18-year-old McIlroy played bogey-free in the opening round for a 68 and went on to win the amateur prize
At the trophy presentation that day, Harrington said he was happy to get his major before the youngster from Northern Ireland started winning them.
"There's very few players as good as him at his age out there winning tournaments,'' Harrington added.
"There are guys with potential but he's already delivered.
"And he has a good balance in his life. He doesn't look like a guy who is going to burn out. He looks like he's going to be here for a while.''