Rory McIlroy, Luke Donald & Lee Westwood set for Miami test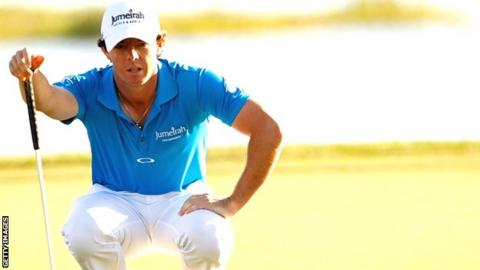 Rory McIlroy, Luke Donald and Lee Westwood have been grouped together for the opening round of the WGC-Cadillac Championship in Miami on Thursday.
Northern Ireland's McIlroy became world number one on Sunday but Englishmen Donald and Westwood both have a chance to unseat him with victory at Doral.
"I'd love to keep myself here for a while," said McIlroy of top spot.
"But I know that it's inevitable that I'll lose it at some point. I just hope that it's a little further away."
He added: "But that's not what I play golf for. It's not to keep the number one ranking.
"It's about winning tournaments, and if I win tournaments, the ranking will take care of itself."
For the second year running, the top three players in the world will tee off together at this event.
Donald was world number one for 40 weeks until McIlroy overtook him by , while Westwood held the top spot prior to Donald's ascent.
"I think it adds a little bit of interest. I'm not sure that the players are quite as concerned with it as maybe you guys [the media] or the fans, at least," said Donald.
"But anything that adds to a tournament where the broadcasters can talk about it and add to an event, I think it's probably a good thing.
"There obviously is some jockeying for position. There isn't one stand-out player right now - that certainly is what the world rankings say."
Westwood, who stated: "There's nothing hard about being number one in the world.
"If you don't enjoy that, then you need to take up another sport.
"Me and Luke were talking about it on the putting green today. I said, 'Oh, morning, number two,' and he looked at me and nodded and said, 'Yeah, it's sort of a bit of a relief'.
"He said, 'There's only one way to go when you're number one. At least there's more than one way to go at number two.'
"So you're at the top there and everybody shoots at you but I think that's the position you want to be in. You want the position that everybody is envious of."
Tiger Woods, runner-up to McIlroy on Sunday, will start with defending champion Nick Watney and Spain's Sergio Garcia.
Phil Mickelson plays with Hunter Mahan, who beat McIlroy in the final of the Match Play, and Adam Scott.
The draw also includes Ian Poulter, who was doubtful after being diagnosed with pneumonia last week.
"Flying down to Doral in the morning," Poulter said on his Twitter site.
"It's going to take more than pneumonia to keep me out for long. Itching to get back. Mind over matter."
Fellow Englishman Paul Casey is set to play for the first time since dislocating his shoulder snowboarding in Colorado on Christmas Eve.