Tiger Woods pulls out of the WGC-Cadillac Championship with leg injury
Last updated on .From the section Golf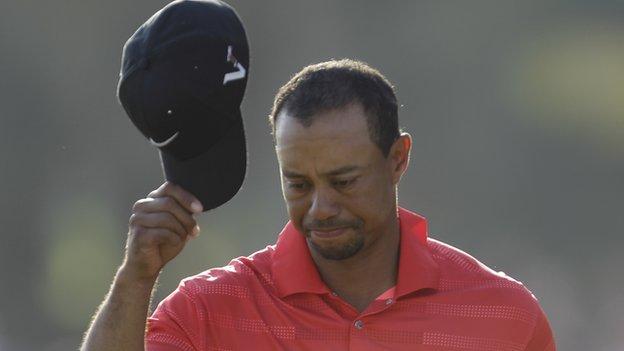 Tiger Woods was forced to pull out after 11 holes of Sunday's final round of the WGC-Cadillac Championship in Florida with an Achilles tendon injury.
The former world number one, who began the day at Doral eight off the pace, had already fallen out of the running with bogeys on six, seven and 10.
But his new injury will be a concern to the four-time Masters champion with Augusta less than four weeks away.
Justin Rose won the tournament by one shot from Bubba Watson.
Woods, 36, complained of a tight left Achilles tendon during his warm-up and admitted he aggravated the injury during his round on day four.
"After hitting my tee shot at 12 I decided it was necessary to withdraw," said the 14-time major winner.
"In the past I may have tried to continue to play, but this time I decided to do what I thought was necessary."
Woods added he expects to be assessed by medical staff early this week.
The final day drama also included a hole-in-one by England's Paul Casey.
It came with an eight-iron on the 15th but, although there was a brand new Cadillac behind the tee, it turned out to be the prize for an ace on the nearby 13th - not the 15th.
Casey's caddy Craig Connelly was initially overjoyed, having struck a deal on the tee to go halves with his boss if the tee-shot went in.
"On the tee," said Casey, "I said 'If I hole it I'll split the prize with you, whether it's a car or cash.
"We shook on it, he handed me the eight iron, I knocked it in the hole, and Craig went bananas.
But a conversation with the officials swiftly brought the bad news that the car on view was not, after all, on offer.
"I've never been so relieved in my life," said Casey.
Cheltenham-born Casey was playing his first tournament since dislocating his shoulder snowboarding in Colorado on Christmas Eve.
Casey carded a one-over par 73, his ace undoing the damage of a double-bogey on the par-five 12th.
Woods, who had reconstructive knee surgery in 2008 and was also sidelined last summer because of further leg trouble, had already been limping throughout the round before abruptly leaving the course after completing 11 holes.
Joint eighth overnight, Woods had bogeys on the sixth and seventh and then dropped another shot after hitting into water on the long 10th.
He played the next and saved par from a bunker at the 11th, but he had to let go of his club after hitting into the sand there and decided not to risk aggravating the problem.