Welsh teenage golfer holes in one at The Belfry - at the famous 10th
Last updated on .From the section Golf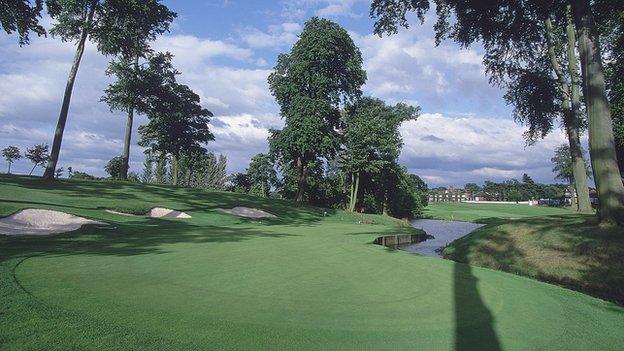 Welsh teenager Dan O'Connor has become the first golfer to hole-in-one the famous 10th hole at The Belfry.
The par-four was given notoriety by the late Seve Ballesteros when he drove the green back in 1978.
The hole has since been shortened, but no player has previously carded an ace on the Brabazon Course's dog-leg right 311-yarder, guarded by water and trees.
"It's my first hole in one and the highlight of my career," said the 19-year-old O'Connor.
Since 1977, the iconic hole - known to millions of golf fans around the world - has figured in four Ryder Cups and 11 European Tour events.
And the great Ballesteros's famous tee-shot when playing against Nick Faldo in the 1978 Hennessy Cup was commemorated by a plaque for being the first to achieve the feat.
Even the Warwickshire course's own guide warns golfers: "If tempted to go for the green, only a perfect fade will make it past the high trees guarding the right and avoiding the water on the left.
"Alternatively, play safe down the right hand side of the fairway to leave a short approach to the green."
Actuaries estimate odds of around 12,500 to 1 for a single shot success by an amateur on a driveable hole. Even the chances of a tour professional holing in one are said to work out at best at around 2,500 to 1.
In January, The Belfry was put up for sale, having been bought by the Quinn group in 2005 for £186m.