Rory McIlroy and Luke Donald no-shows upset Arnold Palmer

By Iain Carter
BBC golf correspondent
Last updated on .From the section Golf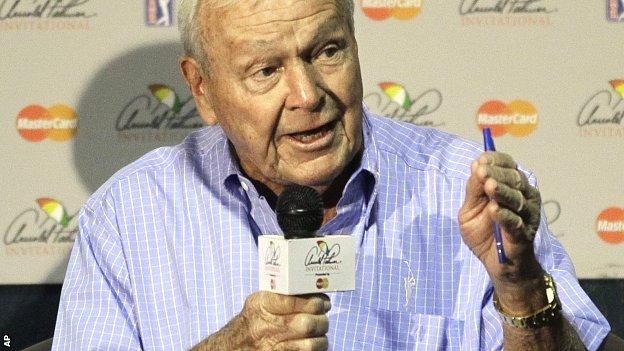 Arnold Palmer is disappointed that Luke Donald and Rory McIlroy have declined invitations to play in his Tour event.
The world's top two players are missing the Arnold Palmer Invitational, that starts at Bay Hill on Wednesday, to prepare for the Masters on 5 April.
"I'm disappointed they are not here," said the 82-year-old Palmer.
"I had a letter from Rory that told me he wasn't coming. Of course that made me feel great. And, if you believe that, I'll talk to you outside after."
Palmer was noted for travelling to Britain to play The Open in the 1960's, a time when the Championship was struggling to maintain its reputation as one of the biggest events in the world.
"Back in the early years of the Tour I went to the British Open to kind of enhance or to create additional interest in international golf," said Palmer.
"And to think that those guys are now the top international players in the world, we like to have them here."
Donald and will not play again competitively until he tees off at Augusta next month.
World number two McIlroy has not played since finishing third at the WGC Championship at Doral on March 11. The Northern Ireland star likes to take a break before contending for majors.
Both players face difficult scheduling decisions because they play both the PGA Tour in America and the European Tour and must juggle dates and find the necessary rest periods.
"I'm certainly not happy that those fellas chose not to come this year," added Palmer. "We are doing everything we can to entice them to come and play."
Palmer also revealed that McIlroy wrote to request a meeting with him.
"I think he has done a wonderful job at 22 years old and starting his career like he has just gotten launched into," added Palmer.
"I'm not sure that I know exactly what he wants me to tell him or what he wants to hear from me, but I look forward to seeing him and talking to him.
"He also mentioned in the letter that he will be here to play in years to come."