Amputee golfers prepare to face Americans
By Brent Pilnick
BBC Sport
Last updated on .From the section Golf
The trans-Atlantic golfing rivalry between Great Britain and the United States goes back decades, sprouting the likes of the Ryder, Walker and Solheim Cups.
But a new name will be added to that list of trophy names as a group of British amputee golfers face their American rivals for the Simpson Cup.
The two teams will meet at Florida's notoriously tough TPC at Sawgrass course in December, with Britain hoping to take the honours.
The tournament has been organised by a charity called the On Course Foundation, which uses golf to help to rehabilitate service personnel who have lost limbs on active service.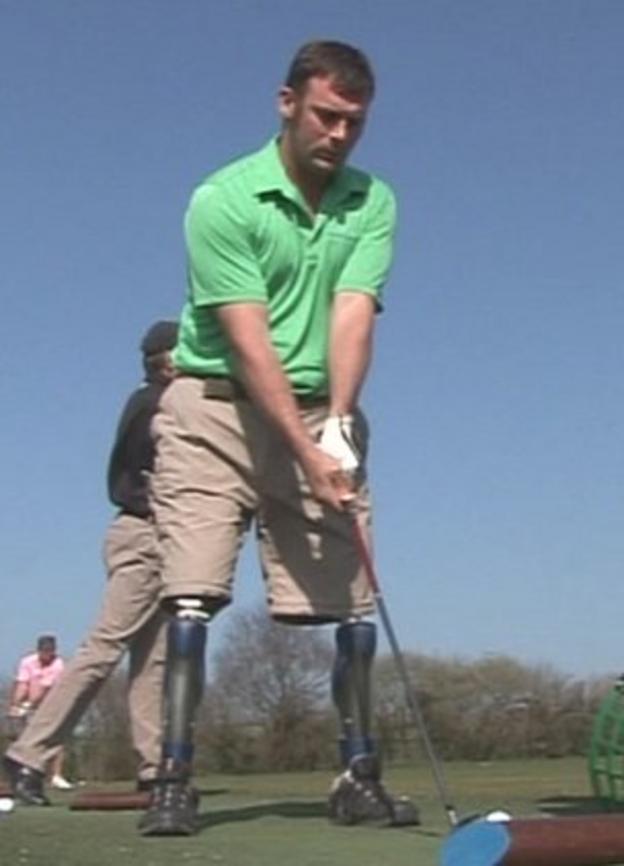 One of those using the prospect of Simpson Cup selection to help his rehabilitation is Ian Bishop.
He was serving as a Royal Marine with 45 Commando when he trod on an improvised explosive device in the Upper Gereshk Valley in Afghanistan and lost both his legs above the knee.
"Golf has been pretty much invaluable," he says.
"It's a sport that once you learn to play you can compete with able-bodied people on a level par because of the handicap system.
"Eighteen holes might not seem much to able-bodied people, but for people in our situation using prosthetics it takes it out of you.
"You get to the end of the day and you certainly know you've been walking around and doing a lot of physical activity."
And he says on a practical level the sport has helped him to learn how to walk again.
"Golf courses are undulating, especially if you go in the bunkers a fair bit, and it's learning to balance," Bishop explains.
"When you're relying on your prosthetic legs you need to have good balance, so as far as rehabiltiation goes, golf has been fantastic."
Dave Ward lost his lower left leg in the Kegworth air crash in 1989, is one of the players that spends three days every month at a different course honing their skills.
"When you have an injury and you're young you think it's the end of the world, but On Course have stepped in and given you another otulook on life.
"Just playing against the Americans in a Ryder Cup-style event means you're getting back to playing in a team, which you didn't think you'd be able to once you'd had your accident."
So what of their chances against their American rivals?
"It's the British against the Americans, so we obviously want to go there and win. I'm quite confident," Bishop says.