Liselotte Neumann named European captain for Solheim Cup
Last updated on .From the section Golf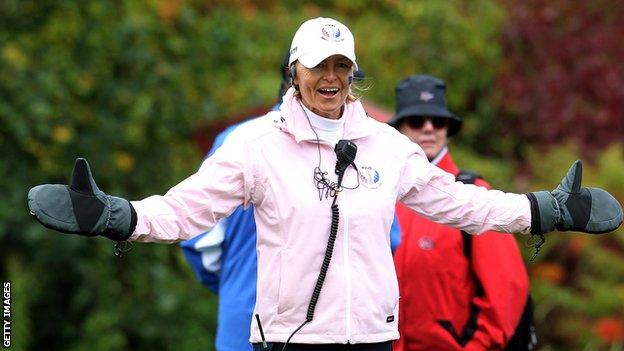 Sweden's Liselotte Neumann is to succeed England's Alison Nicholas as Europe's Solheim Cup captain.
Nicholas stepped down after leading the Europeans to a dramatic 15-13 victory over the United States in Ireland last year.
Neumann, who has won 27 tournaments worldwide, will lead the team in Denver in 2013.
"I look forward to the challenge of defending the title on US soil next year," said Neumann,
"This event has always been very special for women's golf and it brings back wonderful memories of my years on the team."
The Europeans, who have never won on United States soil, trail 4-8 in the biennial series, which is the women's equivalent of the men's Ryder Cup where the top players from the United States face those of Europe.
Neumann said she accepted the prestigious role only after long consideration.
"I think everybody will be really fired up to hold on to the trophy and try to win it on US soil for the first time," added the 45-year-old.
"I did think it over.
"I actually found out in November I was put on the list and considered to be a captain and I accepted to start with and kind of changed my mind about five days later.
"I took my name off the list and a few months later I ended up getting a lot of very nice emails and text messages from a lot of the players and from friends and family.
"It really sort of got me thinking again, I might never get the opportunity again, and I put my name back on the list."
The 13th edition of the Solheim Cup will be played in Denver from 16-18 August next year.