Masters 2012: Ian Poulter not looking for mentor at Augusta
By Rob Hodgetts
BBC Sport at Augusta
Last updated on .From the section Golf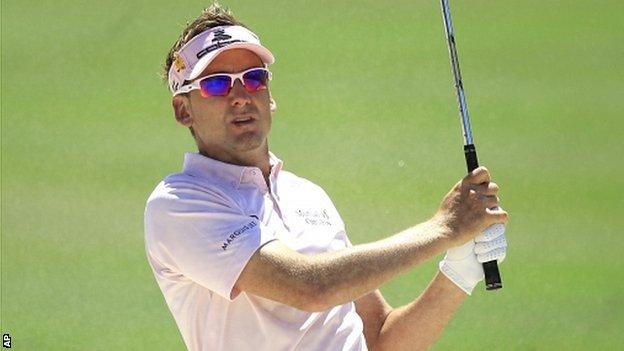 Ian Poulter insists he will trust his instincts rather than seek the help of a Masters mentor at Augusta this week.
Defending champion Charl Schwartzel sought the wisdom of six-time champion Jack Nicklaus last year, while three-time winner Nick Faldo recently bemoaned the fact that none of his countrymen have asked for his advice.
But Poulter, who is "95%" recovered from the pneumonia he suffered last month, said: "It is hard to take advice from someone with a very different game and a very different mindset to you."
He told BBC Sport: "If you try to put yourself into the mindset of someone else you could potentially struggle. I'm not Jack, I'm not Nick Faldo, I'm not Seve, I'm me."
The 36-year-old's best Masters finish was tied 10th in 2010, and he tied for 27th last year on his seventh visit to the Augusta National.
Faldo told the Daily Mail he is surprised none of his compatriots want his help in becoming the first English Masters champion since his third victory in 1996.
But Poulter said many players are "fearful" of seeking advice from someone with a different game.
"You'd get the Nick Faldo way of doing it. It worked for him at the time but it might not work now," he said.
"I'd find it hard to sit down with someone who hits the ball with 10 yards of fade off every tee.
"It's all very well asking Jack how to play the course but he's the best player ever to have swung a club. I'm not that player. Jack had certain shots he could pull off that I might not be able to pull off.
"When you are most relaxed and most comfortable, you've done your homework and practice, hit all the shots and can go and play golf. That's when players deliver.
"I've come close; I've finished second in majors. My mindset was good and I made good decisions but obviously it wasn't quite right. When I understand me the best, I've got my best chance."
Poulter, now ranked 24th after a career-high fifth following his WGC Match Play win in 2010, clinched the Australian Masters in November before taking January off for the birth of his fourth child.
The Englishman was forced to pull out of the Honda Classic after being diagnosed with pneumonia in early March, but he bounced back to later in the month.
Despite criticism from Faldo earlier this season that his constant use of Twitter was becoming a distraction, Poulter claims he has been working harder than ever on his game.
"I felt like I was in nice shape and did some great fitness early in the year and it is just frustrating to have lost some of that," Poulter said.
"Playing 18 holes is no problem; it is just the recovery time. The game has always been there; it's just frustrating not having played many tournaments.
"But [Bay Hill] sets me up nicely for Augusta - it's a nice bit of confidence. I've driven it fantastically over the last few weeks, my iron play has been very good and I've put a new putter in the bag which is starting to work, so I feel like I'm going to make a few birdies.
"I've been working a lot on my short game from inside 120 yards to dial that in, so I think my game is going to be ready.
"My mindset has always been pretty good. At Augusta the focus level is very high anyway.
"It is one of those places where it's very easy to concentrate. It's the first major of the year, it's Augusta National - the second you walk on the practice ground it switches your brain on."
Poulter has been practising a variety of Masters-specific shots at home at Lake Nona - simulating drives with 30 yards of draw for Augusta's 10th and 13th tees, or playing shots with the ball above his feet like on 13 or off severe downslopes, such as a 100-yard wedge into the par-five 15th.
He returns to Augusta - "like stepping into the most perfect picture ever painted," he says - inadvertently in the spotlight again, after receiving an uncomplimentary mention in the new book "The Big Miss", written by Hank Haney, Woods's former coach.
The story goes that Woods sent Haney a less than flattering text about Poulter after he hitched a ride in Woods's private jet on the way home from a practice round at the 2007 US Open at Oakmont.
Poulter, though, says he has "no interest" in the book or any revelations, adding: "He said, she said. I left all that in the school playground when I was 12."
Masters preview, BBC Radio 5 live, Tuesday 3 April, 2100 BST
Masters 2011 review, BBC Two, Wednesday 4 April, 2320-0020 BST