Masters 2012: I don't need to play my best to win, says Donald
Last updated on .From the section Golf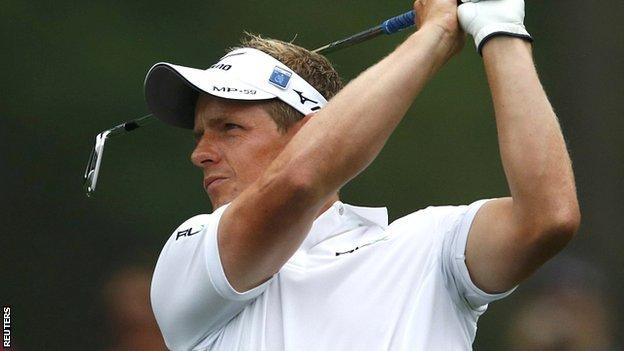 World number one Luke Donald believes he does not necessarily need to be at his best to win the Masters.
Donald lines up at Augusta for the eighth time this week awaiting his first major win.
"I think I have to play very solidly. If I play my best, hopefully that will be good enough," he said.
"But I feel like what I've learnt, especially from the last year or two, is that I dont need to play quite my best. I just need to play good golf."
Donald has been no stranger to success in recent times, winning five tournaments in the last 14 months, a performance that has sent him to the top of the money lists on both sides of the Atlantic, as well as the world number one spot.
And he knows that those wins are a boost to his victory hopes.
"Certainly in terms of confidence I feel like I'm a different player. But also, knowing that with those five victories, probably only one of them I played what I really thought was really good golf," he added.
"Four of them I thought I didn't play my best and I still managed to win. I think that was important for me to know that I don't have to go out there and press and play my best to win."
Meanwhile, Donald, who will play the opening two rounds alongside Ryder Cup team-mate Francesco Molinari and American Nick Watney, will not be defending his par-three title on Wednesday in order to concentrate on his bid for a first major.
"I probably will play it when my kids get a little bit older because I think it's a great experience to take out my daughters to come carry a few clubs around with me," he said.
"That would be fun, but playing on greens that are not quite the same the afternoon before the first round doesn't seem the best preparation for me.
"Tomorrow I'll go play nine holes [on the tournament course]. It will be a relaxed day, get in some good practice and just be ready for Thursday."