Masters 2012: day two selected reaction from Augusta National
Last updated on .From the section Golf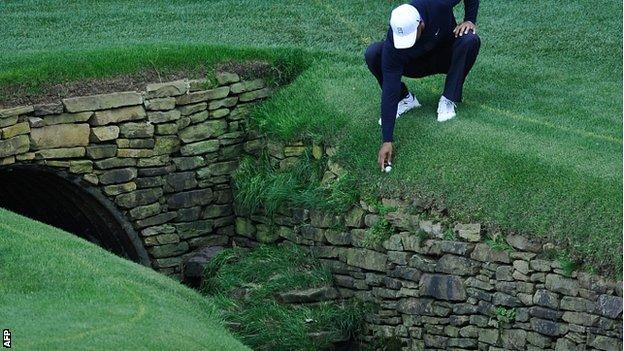 Tiger Woods refused to give up hope of a fifth Masters title despite an ugly second-round 75 at Augusta that left him eight shots behind the leaders.
Woods started with birdies at one and three but five bogeys followed as he struggled with all aspects of his game.
"I tried to give everything I had on every shot and tried to stay focused," said the 14-time major winner.
"I was grinding hard out there. I didn't quite have it with my swing and I had to hang in there and be patient."
The 36-year-old added: "One of the neat things about this tournament is the 10-shot rule and so anyone who has made the cut can still win it.
"I just need to cut the deficit down on Saturday and get off to a good start on Sunday."
Three-time Masters champion Phil Mickelson, for so long Woods' main rival, moved to two under with a fine round of 68 and is feeling optimistic about the weekend.
"I played well and shot something in the 60s that got me back in the tournament," said the 41-year-old, who was four over after a triple bogey seven at the 10th on Thursday.
"I was hoping for one or two more under, but that birdie on 18 felt terrific to finish that way. And to be only three back now heading into the weekend feels great, too, especially after the first 10 holes yesterday."
Sergio Garcia finished one shot behind halfway leaders Fred Couples and Jason Dufner, despite struggling with his grip because of an injury to one of his fingers.
The Spanish Ryder Cup star, who is still to win a major, shot a four-under-par 68 to reach four under and a share of third place.
"The finger is still a little bit sore. It bleeds every time I play, but it feels a little bit better," he said.
"I felt cold this morning, that's for sure. It was very cold and quite breezy, so it was tough.
"Fortunately the sun came out and it definitely made a difference."
World number one Luke Donald conceded he would have to card a low round on Saturday to have any chance of winning his first major.
The Englishman said: "I didn't get a lot out of that round. I actually hit a lot of quality shots today and came unstuck a little on seven and eight.
"Other than that I didn't hit too many bad shots but I wasn't able to make up much ground today.
"I'm going to have to go low on Saturday. I'm nine shots back, which is a long way, but I'm out early and will hopefully get some good, fresh greens."
South Africa's Louis Oosthuizen came back from a shaky start, finishing with a level-par round of 72 for four under overall.
He said: "I've never come into this tournament playing really well. This is probably the first one I came in feeling confident, the way I'm swinging it and the way I'm hitting the ball.
"So it makes a huge difference. It's a weird spot for me to be in, to be third at the moment. It's a nice spot to be in."
American Bubba Watson is in contention on four under after a 71 but seemed to be more excited about his new son than the winner's Green Jacket.
Watson and his wife Angie became parents for the first time last week when they adopted a one-month-old boy named Caleb.
"I had pretty good perspective already but now with a kid, obviously it shows that life is not about golf," he said.
"I've always had that belief and now it just really proves it that golf is what we do."
Former Open champion Paul Lawrie, who birdied the last three holes to stay at three under, said: "I'm just going to keep doing what I'm doing.
"I'm not going to get too far ahead of myself, no aspirations of what's going to happen, just have a bit of fun and see what happens."
England's Ian Poulter, who has never missed a cut at Augusta, carded a second-successive 72 to stay level par, although his round could have been better.
The world number 24 said: "I'm a little bit disappointed. The front-left pin location on 16 is accessible but the wind changed a little and I hit a wedge and pulled it [for double-bogey].
"I feel good about my game. I played a lot better today than yesterday."
Northern Ireland's Graeme McDowell shot a 72 to remain three over: "It leaves me feeling the way I always feel at Augusta. It's one of these golf courses that gets into my head a little bit.
"I end up playing it too negatively. I stop myself from playing well just because of the way I think around the course. I think too negatively going into the greens, I think too negatively around the greens, and it ends up beating me up a little bit.
"It was tough yesterday and it was tricky this morning in the cold, but I'm proud of the way I hung tough. I could do with another two rounds because if I ever want to win a Green Jacket, which I do, I need to get my head around this place."