Masters 2012: Tiger Woods apologises for kicking club
Last updated on .From the section Golf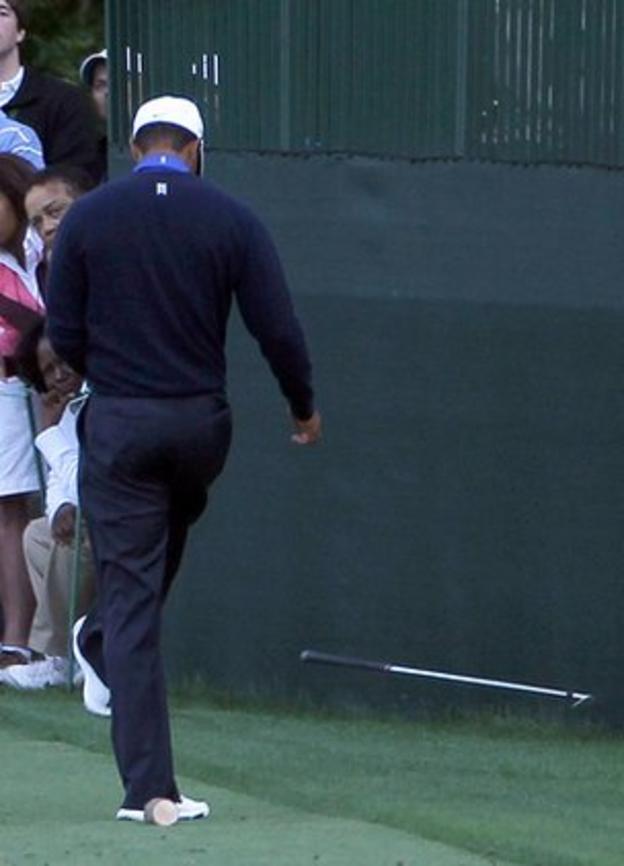 Tiger Woods apologised for kicking his club and swearing during his second round at the Masters.
Woods, who finished the third round on three over par on Saturday, kicked his club away after finding a bunker at the par-three 16th on Friday.
"I certainly heard that people didn't like me kicking the club, but I didn't like it either," said the 14-time major winner and former world number one.
"I'm frustrated at times and I apologise if that offended anybody."
Woods could be fined by the PGA Tour, although any such action would not be made public.
"I've hit some bad shots and it's certainly frustrating at times not hitting the ball where you need to hit it.
"I hit it right in the bunker and [kicking the club] didn't feel good on my toe either."
Woods began the third round on three over, and threatened to make progress up the leaderboard when he birdied the third and fourth.
However, bogeys on the sixth and ninth followed, with the four-time Augusta winner shooting a level-par 36 on the back nine.
"I'm so far back I definitely need help from the guys - and a spectacular final round," he said.
"That's the way it goes. You can't win all the tournaments, but you can try to improve and I just need to continue with the process."