Phil Mickelson the man to beat after setting up scintillating Sunday
Last updated on .From the section Golf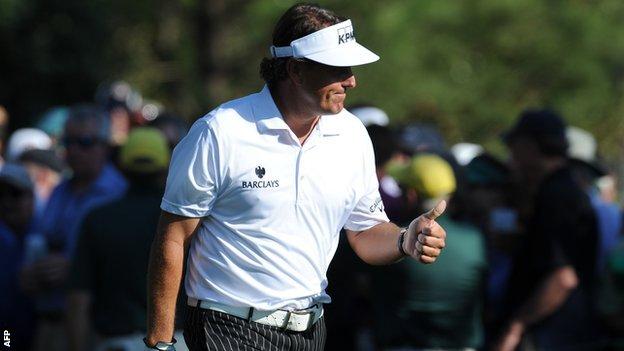 An air of expectancy hung over Augusta. Moving Day they call it, but it was more of a shuffle. Until Phil Mickelson stepped on the gas.
The electrifying American ignited the famous roars again in what has become something of a Masters tradition, like the par-three contest, pimento sandwiches and veteran Fred Couples having an early run.
The popular left-hander didn't disappoint on Saturday, and has helped set up a scintillating Sunday.
Mickelson's eagle on the 13th to grab a share of the lead prompted the first ground-shaking roars of the weekend. He followed it up with an outrageous high flop shot from behind the 15th green to set up another birdie. And he finished with a flourish after carving a draw around the trees to eight feet to set up a final birdie on the 18th to end eight under, one off the lead held by Sweden's Peter Hanson.
All this from a man who was four over after 10 holes of his first round.
"I just feel really confident in the way I've been playing and the way I've been putting and in this setting and on this golf course," said Mickelson.
"I love it here and I love nothing more than being in the last group on Sunday at the Masters. It's the greatest thing in professional golf."
But if Mickelson laid down the golf glove, Hanson picked it up. The Swede finished with four birdies in five holes for a stunning 65, the low round of the week.
"That was one of those special kind of Masters moments that I've been watching so many times on TV," said Hanson. "You hear the crowd going wild when he [Mickelson] made the eagle. It kind of helped me."
Clearly, Hanson will be a massive underdog. It is hard to look past Mickelson on a course where he is bidding for a fourth Green Jacket in nine years.
Were he to do so, the 41-year-old American would match compatriots Tiger Woods and Arnold Palmer, and move within two titles of Masters record-holder Jack Nicklaus. Intriguingly, Palmer won all his titles in even years - 1958, 1960, 1962, 1964 - and so has Mickelson (2004, 2006, 2010).
Two years ago Mickelson's run of eagle-eagle-birdie from the 13th sent the Saturday crowd wild. The following day, he hit what is now considered to be one of the most famous shots in golf when he threaded a six iron between two pine trees to the right of the 13th to set up a six-foot eagle chance. Though he missed the putt, it was the turning point as he went on to see off Lee Westwood by three shots.
But after demonstrating his gamblers' instinct on Saturday, the Californian credited Thursday's gritty fightback to end two over - followed by a 68 on Friday - for his current lofty position.
"I knew I would get a hot hand at some point," said Mickelson, who leads the stats for fewest putts with 77 from Hanson with 79. "I just needed to not be so far back that it didn't move me off the leaderboard."
The Californian has been in the final group each time he has won - shooting 69, 69 and 67 - outscoring his playing partners by 13. He also beat Hanson 4&2 when they went head-to-head in the Ryder Cup singles in 2010.
Hanson, who won twice on the European Tour that year, admitted that trying to sleep ahead of the final round was "going to be tough", but he has at least seen Mickelson close up at Augusta after playing with him in the first two rounds.
"The crowds are so much behind Phil and they love him, and I understand why - the way he plays," he said.
"I'm just going to try to enjoy it. I tried to stay pretty close to him the first couple of days and let it feed off a little bit. It's great playing in front of these fans and it's just an amazing feeling."
But, of course, it's not all about the top two. Nine players are within five shots of the lead - and all have proven credentials.
Louis Oosthuizen (-7) is the 2010 Open champion, Bubba Watson (-6), Matt Kuchar (-5) and world number four Hunter Mahan (-4) have won multiple PGA Tour titles, Padraig Harrington (-4) is a three-time major winner, Lee Westwood (-4) is the world number three and was second in 2010 and Henrik Stenson (-4) has won in Europe and the US. Even Paul Lawrie at three under has won a major.
Charl Schwartzel fought back from four adrift to win by two last year, while the biggest final-round comeback was in 1956 when Jack Burke recovered from an eight-shot deficit.
That would open it up to another 13 players, although not Rory McIlroy (+1), Tiger Woods (+3) or world number one Luke Donald (+7).
Harrington believes experience will be the key to surviving a possible cavalry charge on Sunday.
"You've got to know the feelings coming down the stretch at the Masters," he said. "That back nine is different [from] any other major tournament, purely because of the risk/reward all the way home. There's a lot more intimidation through the last nine holes and that really does take a lot of experience."
Schwartzel was only playing in his second Masters - as is Hanson - and withstood the heat of a crazy afternoon 12 months ago.
But Mickelson had long played his way out of it. Not this time.