Masters 2012: Luke Donald, Tiger Woods and Rory McIlroy reaction
Last updated on .From the section Golf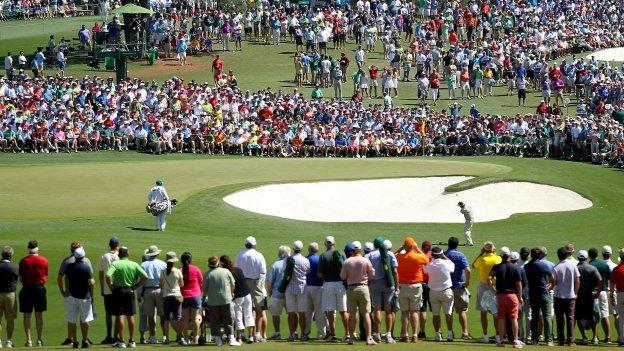 Luke Donald admitted frustration at not being able to produce his best form at the majors after a disappointing display at the Masters.
The world number one, who has never won a major, closed with a final-round 68 to finish on three over par at Augusta.
"Obviously I've got to work on being able to bring the game that I play at normal tournaments to the majors.
"I'm getting closer each time. It just takes more and more experience," said the Englishman.
"It took me a while to learn how to win on the PGA Tour and the European Tour and win consistently.
"I think it's the same with majors. It's a different level and it's just taking me a little bit of time to figure it out."
Four-time winner Tiger Woods ended his campaign with round of 74, to close on five over par, his worst Masters finish as a professional.
The former world number one said he knew what he had to work on if he was to add to his tally of 14 majors.
"I didn't drive or hit irons very well and need to work on that," said the American.
"What's frustrating is I know what to do, and I just don't do it. I get out there and I just don't trust it at all.
"I fall back into the same old patterns again, and I just need to do more reps. Thank God my short game was good this week and my putting was really good. Unfortunately they were all for pars, not for birdies."
World number two Rory McIlroy was only one shot off the lead going into the second round, but his chances were ended by a 77 on Saturday.
The 2011 US Open champion followed that up with a 76 on Sunday, to end on five over par.
"I felt like I had a chance coming into the weekend and to blow it on first nine holes on Saturday was not great," said the Northern Irishman.
"I was hoping to do a lot better, it just didn't happen for me. Hopefully, I'll make a good defence [of the US Open title] in San Francisco."
Australian Adam Scott fired a six-under-par 66 that included a hole-in-one at the par three 16th and a chip in from off the green at 17.
"It was just one of those days. I was playing nicely but there was not a lot going on. I couldn't see it going in.
"And that [chip in on 17] was just complete luck. I was in an awful position. Everything was going my way and it was a fun way to finish this week."
Bo van Pelt of the United States was another man to record a hole-in-one at the 16th, to go with an eagle at the par-five 13th, on the way to a 64, the joint-lowest final-round score and only one short of the course record.
"Well, it's just golf," said Van Pelt. "We'd all like to pick and choose when we have a good round, but we don't get to do that.
"So, you've just got to keep trying to do the same things week in and week out, trying to get better, and then some days you shoot 64 on the first day and you don't end up winning the golf tournament."