Rory McIlroy to take Tiger Woods's star status - R&A chief executive
Last updated on .From the section Golf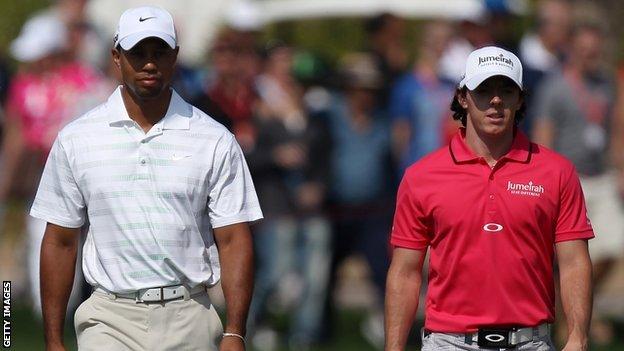 Rory McIlroy will replace Tiger Woods as the big golfing star, according to Peter Dawson, chief executive of the sport's governing body.
McIlroy, 23, is world number one while eighth-placed Woods, 36, struggles to regain his best form.
"You're really seeing the old guard in Tiger, he's only mid-30s, isn't he, and the young Rory," said the Royal and Ancient Club's Dawson.
"Every generation has its stars and Rory is going to be this one."
Northern Ireland's McIlroy won the 2011 US Open for his one major success so far, while American Woods last won the most recent of his 14 majors with victory at the 2008 US Open.
"It's very gratifying to see someone we've seen from his amateur days and played in a lot of events come through like this," said Dawson.
"It's a wonderful time for British golf and European golf, having so many players from these islands and the continent of Europe doing so well.
"It is quite indicative to me as to who the star players are; the star players are always the ones where the TV companies are very interested in what tee times they're going to get at the Open.
"Rory and Tiger are the two that they are most interested in."
McIlroy is one of a number of recent success stories of Irish golf.
Padraig Harrington won the 2007 and 2008 Open, Graeme McDowell claimed was victorious in the 2010 US Open and Darren Clarke claimed the 2011 Open.
Their success increased calls for the Open to be played at Royal Portrush in Northern Ireland, which hosted the championship for the only time in 1951.
"I and some of the people in the championship department have been over having a look at Royal Portrush, a magnificent golf course," added Dawson.
"It is very interesting they have the Irish Open there this year and have had some very strong ticket sales, so I hear, and we will have a look to see how that goes.
"We're a long way from any announcement that the Open is going back to Portrush but we have had a look at it.
"It's an interesting venue from all sorts of points of view, but there are certain aspects of the golf course which would be very difficult for big crowds."