Bubba Watson says he is still emotional over Masters win
Last updated on .From the section Golf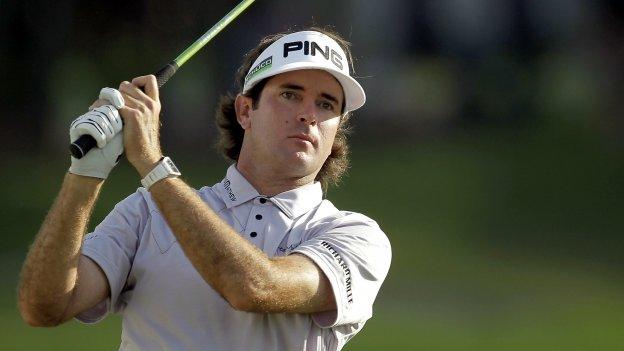 Masters champion Bubba Watson feels reluctant to return to the golf tour because he will miss his new-born baby.
Watson won his first major at Augusta on 9 April, just two weeks after adopting one-month old son Caleb.
Ahead of defending he said: "Pretty much every day I cry - I cried this morning when I was leaving my boy."
Watson also promised to keep on going for the "miracle shot" like the one that won him the Masters.
"When it comes to creativity on the golf course, that's just who I am," he added.
"It thrills me because then I can pull off some shots. That's more exciting.
"If I was just playing with my buddies I'd want to pull that shot off.
"I'm just Bubba from Bagdad, Florida. I play golf because I love the game of golf, because it's fun.
"Where I grew up with plastic golf balls I just learned to hit in the trees, through the trees, over the trees, under the trees."
Watson, 33, faces tough competition in New Orleans, with world number two Luke Donald also in the field.
But, although he would rather be with his family, Watson felt unable to refuse the invite.
He added: "I would love to be at home right now watching my little boy and spending time with my wife.
"I felt like it was an obligation that I should be here. I think I should be honoured that I won here before."
Northern Ireland's Graeme McDowell and England's Justin Rose have also entered the event.