Golf Show: golf and politics collide at Balmedie
By Graham Spiers
Golf Show presenter
Last updated on .From the section Golf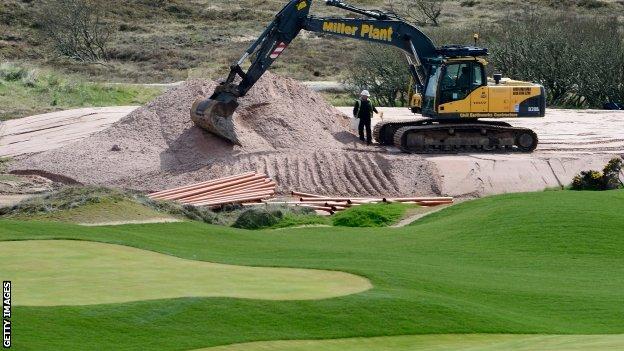 Scotland has been Trumped again this week.
"The Donald" flew in amid typical hoopla and noise - let alone hair flying everywhere - to once more promote his new golf course at Balmedie, while simultaneously haranguing First Minister Alex Salmond.
I might be typical of a lot of Scottish golf fans on the "Trump issue" - which is to say I am split on the subject.
While I love a new golf course, and will look forward to playing Balmedie, clearly you cannot have a figure like Trump dictating to a Scottish government what their energy policy should be.
Mr Trump, not altogether without foundation, is seriously objecting to a wind-farm being planned for a mile offshore from his new course. In the context of gorgeous Scottish coastlines, I can see where he is coming from.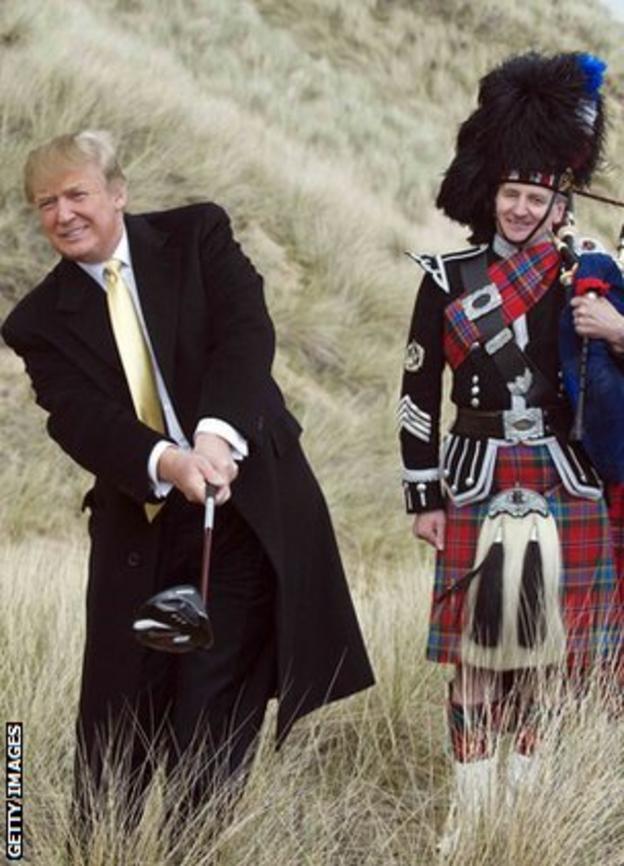 Part of the joy of places like Kingsbarns, Balcomie, Stonehaven and other golf courses is the uninterrupted coastal views you get as you traipse between shots.
Trump is pouring tens of millions into his Balmedie project, so by all means, let him have his say.
And let's be honest: golfers everywhere cannot wait to slam a drive off the first tee at Balmedie after its completion.
So my golfing heart takes to The Donald, while my political head says he is pushing his agenda just about as far as any outsider possibly could.
We will discuss The Trump Question on The Golf Show this Sunday morning.
Also, Neil Lennon will speak to me on the show about his love of golf. Lennon first took up the game at the age of 14 and spent many a day of his teenage years at Lurgan Golf Club.
I can personally testify that the Celtic manager can hammer a ball a country mile off the tee - though not always to its intended target.
Lennon will explain to me why he loves the game, what his favourite courses are, and why he finds golf the perfect therapy after a day - good or bad - at Celtic Park or elsewhere.
You can contact us on Twitter at @bbcgolfshow.
Or you can email thegolfshow@bbc.co.uk. Let us hear your views on all golf-related topics.
My favourite Scottish courses: Nairn
I fell in love with Nairn Golf Club from the moment I first set eyes on the place. One bright, glistening afternoon I arrived at the golf course to find it utterly captivating.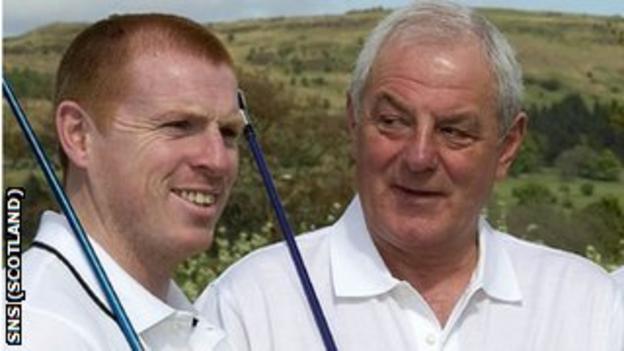 The drive down the road towards the clubhouse from the town gives you the impression you are about to drive straight into the Moray Firth.
The water sparkled in front of me, and then, bearing left, you come upon the golf course in all its beauty and - more often than not - windswept challenges.
Scotland is rightly proud of its magnificent range of links courses and Nairn is a crown jewel among them. The course is the quintessence of links - gorse, heather, a soft, springy topsoil, plus greens that appear to be forever smooth and immaculate - and it makes for an exhilarating experience.
There is also a complexity about Nairn. Yes, it is out-and-out links, but there is a section of holes on the back 9 which rises upwards away from the shore and offers something just a little different.
I wouldn't slander these holes with the label "parkland" but for a 45 minute spell you are suddenly tackling a slightly different type of golf.
The 14th, in particular, a sweeping 219-yard par 3 from an elevated tee towards a green which falls away front, right and left, is a dramatic challenge.
As well as its seaside beauty, Nairn has that other undefinable quality - a kind of ancientness - which sets it apart from the many newer golf courses we now see.
Like Dornoch, St Andrews and Troon, it is tried and tested. Nairn has withstood the ravages of time.
The Golf Show, presented by Graham Spiers, airs every Sunday morning at 1030 BST (92-95FM / 810MW) on BBC Radio Scotland.