Golf Show: The one and only Seve Ballesteros
By Graham Spiers
Golf Show presenter
Last updated on .From the section Golf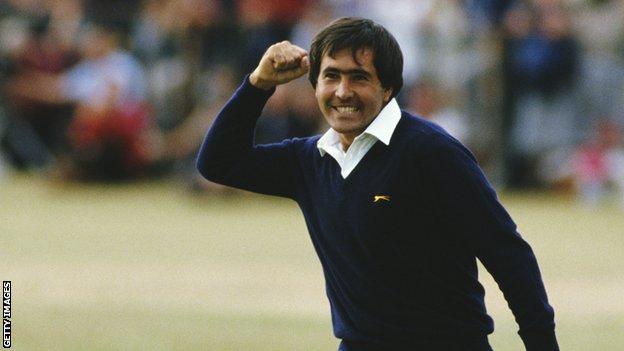 It seems shocking to me - and is a sign of my ageing - that a whole new generation of golf lovers never saw Seve Ballesteros in the flesh.
You can be, I guess, 23 or 24 years old today and have little notion of what people mean when they talk of the Spaniard's thrilling, gung-ho, cavalier golf game.
It reminds me of times when I was a kid and it was popular for people to say: "Who do you think you are, Stirling Moss?"
I had little idea who this great star of motor-racing was. His great years and British TV fame had been before my time.
It grates with me today that young, adult golfers will never have known Ballesteros in his prime. But that's how it is.
Golf writers had scarcely known anything like it when this dashing young D'Artagnan came out of Spain in the late 1970s, wielding his clubs wildly and taking the game by storm.
Beyond the beat-reporters, the heavyweight writers like Hugh McIlvanney were drawn to tournament upon tournament to chronicle Seve's starburst arrival.
As a measure of it, if you think of the impact Tiger Woods had around 15 years ago, then Seve's explosion on the sports world was that and a bit more.
Today, with a slightly wistful hindsight, we can record how poor Ballesteros's haul of major championship wins was for one so talented. Five majors - three Opens and two US Masters - is hardly historic footnote stuff, but that cache should at least have been doubled.
Not only that, but any spectator standing around that Lytham 18th green in 1988 when Seve won his third Open, and being told that, at aged 31, it would be his last major conquest, would simply not have believed it.
It is exactly a year ago that the great Ballesteros passed away. By a quirk, the Spanish Open is being played this week in Seville, a tournament he championed in the non-golfing country of Spain.
The European Tour players this week are remembering Seve, some of them wearing "Seve blue" in memoriam.
Personally, I never got to truly "know" Ballesteros, but I did have a number of quirky encounters with him down the years.
I once shared a one-hour taxi ride to the Irish Open with him from Dublin, when his taxi had failed to show up at the hotel we were both staying in.
"I come with you, yes?" Ballesteros said to me as he and his caddie piled into my car. I was in no emotional state to decline his self-invitation.
For the next hour I was subjected to Seve's pigeon-English jokes, all of them concluded amid his own gales of laughter.
We will recall the magnificent Ballesteros on The Golf Show this weekend. You can contact us on Twitter at @bbcgolfshow. Or you can email thegolfshow@bbc.co.uk. Let us hear your views.
My favourite courses: Shiskine GC
Arran is a favourite destination for the Scots - especially the golfing Scots.
And I am among many who adore heading over to the west coast of that little island - taking the string road from Brodick - to play the unique, delightful 12-hole course at Blackwaterfoot.
Shiskine offers everything, and not just arithmetic quirk. It is a "holiday course" by definition, and pretty short, but its variety is to be savoured.
Especially thrilling and challenging are three of its par-3s - the 3rd, 4th and 7th - any of which can fairly wreck your card as you build your score.
A links course in Scotland is judged in part by its setting, and Shiskine also excels in this regard.
The beautiful Kilbrannan Sound is to be marvelled at throughout, especially on baking summer days when the water dazzles in front of you.
This little golf course is utterly captivating.
*The Golf Show, presented by Graham Spiers, airs every Sunday morning on BBC Radio Scotland at 10.30am.