Teenager Carly Booth comes of age with Scottish Open win
Last updated on .From the section Golf
Comrie teenager Carly Booth described becoming the youngest winner of the Scottish Open as "a dream come true".
Booth, 19, won her first Ladies European Tour title with a one-shot win over Florentyna Parker and Frances Bondad at Archerfield, East Lothian.
The Scot's final round of 71 gave her a four under par total of 212 after she had begun the day in a three-way tie.
She told BBC Scotland: "I'm overwhelmed. After two years on the Tour I have managed to find my way."
Booth's victory was clinched when Parker could not sink a 40-foot birdie putt on the 18th hole.
The win secures Booth an exemption to play on the Ladies European Tour until 2014 and means that she will compete at the Evian Masters in July, the Women's British Open at Royal Liverpool in September and the Women's Australian Open next year.
Booth began the day in a three-way tie with Parker and Stacy Lee Bregman but none of them could edge clear.
Things turned in Booth's favour on the 16th where she recovered from a tough tee shot into the rough to record a par, while Parker missed a putt and dropped a shot.
Booth found a bunker on the 18th but rescued another par to sneak the win.
She described her final shot as "the longest two-foot putt I've ever had to hole".
"It was only about two feet and I only just got it in the hole," she told the Ladies European Tour website .
"It stopped at least for a second and I thought it was going to come up short."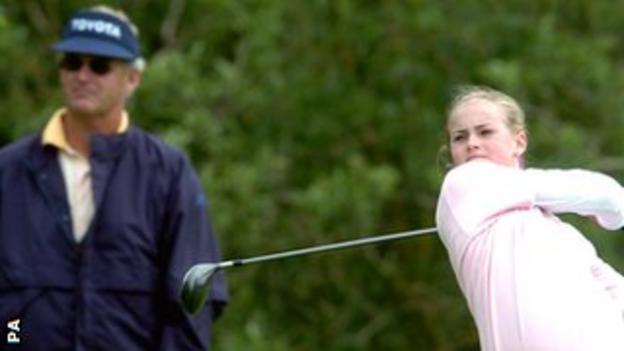 Booth's prodigious talent as a teenager meant that much was expected of her when she turned professional.
She was only 11 years old when she became club champion at Dunblane New and she went on to win Scottish Under-18 and Under-21 titles.
In 2008, became the youngest ever player to represent Great Britain and Ireland in the Curtis Cup.
She said of the pressure her talent attracted: "I liked it. I liked having the challenge. I think with my family being very competitive with sports, there was always that bit of competition between us and it gave me that drive.
"But turning professional was a huge step. I thought it would be a lot easier.
"I struggled the past two years, just finding my way, building confidence, getting to grips with the level.
"I think what I have improved massively is my mindset. Whether I am playing badly or not, I am trying to keep the same tempo and mindset and not get too flustered."
Carly Booth was talking to BBC Radio Scotland's The Golf Show, Sundays 1030 BST, presented by Graham Spiers.
The programme is available on the BBC iPlayer.