Golf Show: Is Tiger Woods's golfing reign over?
By Graham Spiers
Golf Show presenter
Last updated on .From the section Golf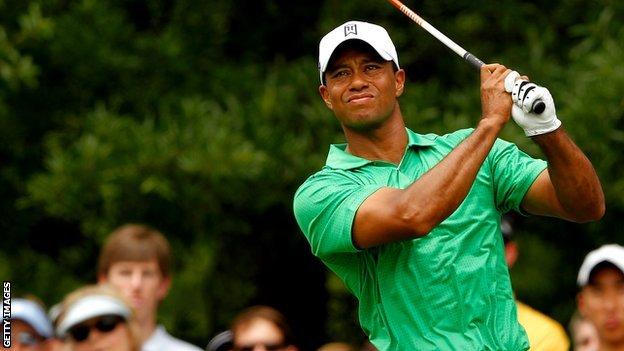 This is the hottest question in golf right now: is Tiger Woods finished as a golfer nonpareil? I've read a batch of Tiger career-obituaries over the past month from many seasoned observers who believe "the Woods era" is gone.
Woods has won only one official tournament in the past two years. He suffered his worst-ever Masters when finishing tied-40th five weeks ago. And in his last eight rounds of golf he has failed to break 70, which, by Woods's previous standards pre-2010, seems a minor blasphemy.
This week, on the eve of the prestigious Players Championship at Sawgrass, Tiger watchers are poised once more to look for further evidence of the former world number one's decline. This cynicism over Woods's ability to climb back to the top of world golf and reign supreme is summed up in the words of Nick Faldo.
"He has no self-belief anymore," the Englishman said of Woods. "He no longer has the self-confidence. He is not the Tiger of old."
This is all a long way from that morning at Augusta in 1996 when Jack Nicklaus made his famous declaration. Back then, when asked if the then 21-year-old phenomenon called Tiger Woods could win as many Masters as Nicklaus (six), the Golden Bear replied: "I think he will win more majors than me and Arnie [Arnold Palmer] combined."
Given that Nicklaus had 18 to his name and Palmer seven, that would make 25 majors in total. Back in 1996, this seemed a typical Nicklaus headline-making claim, but by 2007, with Woods having won 14 big ones by the time he was 31, it didn't seem so outlandish.
But then came scandal, divorce and decline, which for Woods has proved a deadly trinity. Right now, he is toiling to disprove those who claim his days of ruling the roost are over.
The one counter to this received wisdom about Woods is this: his age and his phenomenal dedication to golf leave plenty potential for a comeback.
Woods is still only 36 years old. In truth, if he can rediscover himself, he should have 10 more years of real golfing prime ahead of him. So, while his decline has been dramatic (and saddening for some of us), there is plenty mileage yet for a potential redemption.
He has so far won 14 majors. If I was a betting man, I would wager on him at least equalling Nicklaus's haul of 18. But this is a story that continues to captivate.
We will debate the Tiger Woods saga on The Golf Show this Sunday morning. You can contact us on Twitter at @bbcgolfshow. Or you can email thegolfshow@bbc.co.uk. Let us hear your views.
My favourite courses: Kingsbarns
Not for nothing is this majestic sweep of links on the Fife coastline seen as one of Scotland's greatest new golf courses of the past 100 years.
There was cynicism 14 years ago when it was announced that Mark Parsinnen and Kyle Phillips wanted to revive and re-make the old, redundant nine-hole course by Kingsbarns village, the theory being that this stretch of coast beside St Andrews was already sufficiently well-stocked.
Well, how misplaced that cynicism was. Kingsbarns is simply breathtaking. And, more to the point, it is generously negotiable for mid-handicappers, with its wide open spaces, while also testing the very best.
Why do I love this golf course? Where to start? It has majestic scenery for one thing - the sea is hardly out of your sight. It has a thrilling variety of holes, from a 130-yard dunk at the eighth to that sprawling and exasperating 550-yard par five at the ninth.
Kingsbarns also boasts one of Scotland's greatest par threes: the 180-yard 15th, with trees up the left, the sea on your right and the green elbowing out on a promontory above the rocks.
It is a quite exhilarating hole.
I love this golf course. And with good reason.