Darren Clarke aims for return to form at World Match Play
Last updated on .From the section Golf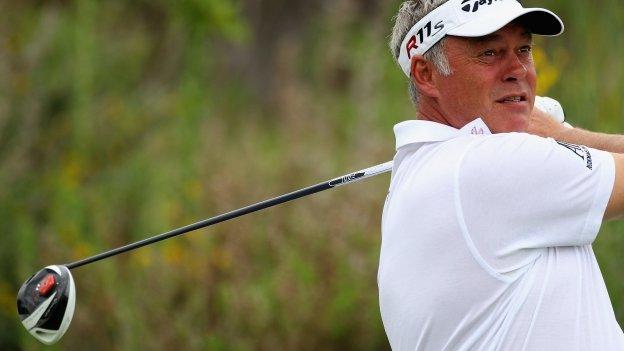 Darren Clarke admits that his pride has been hurt by his poor form since his Open triumph at Sandwich in July.
The Northern Irishman, 43, has yet to make a halfway cut this season ahead of the start of the World Match Play in Finca Cortesin, Spain.
"I've been so frustrated with the whole thing because I've been trying so hard. Too hard probably - not to justify the Open win, but to back it up," he said.
"I'll just keep going - it will turn round at some stage."
The only tournaments which Clarke has seen through to the final day so far this season are the Volvo Golf Champions in South Africa, where he was 20th out of 35, and the WGC-Cadillac Championship in Miami in which he was 43rd out of 72, but neither had a halfway cut.
His poor form has resulted in a slide to 70th in the world rankings and made a return to the Ryder Cup reckoning, mentioned by some in the wake of his Open triumph, a very distant possibility.
"It's not as if I'm being lazy. Whenever I'm in Portrush I'm beating balls in all weathers," he added.
"Hopefully one of these days my game will just click back into place. The bottom line is that I've just got to play better."
Fellow veteran Paul Lawrie, also 43, is also in action at the World Match Play and will become only the 22nd player to appear in 500 European Tour events.
At fifth in the standings, he is far better placed for a tilt at Jose Maria Olazabal's 12-man selection for Medinah, Illinios in September.
"If I get in the Ryder Cup it would be the biggest achievement of my career, so that's the motivation," he said.
"I really want to play on that team. It would be huge for me."
The Scot's only other appearance in the biennal match was when he picked up three and a half points in the 14½-13½ defeat at Brookline in 1999.
Former world number one Martin Kaymer is top seed for the event, while England's Ian Poulter returns to defend the title he won with a 4&2 final victory over compatriot Paul Casey in Arizona 12 months ago.
Elsewhere, returns to the TPC Las Colinas course in Irving, Texas where in 2011 he won his first tour title in the Byrom Nelson Championship.
"To know I was on the PGA tour for at least two and a half more years was huge," he said of the victory that secured his card until at least the end of 2014.
"At the PGA I didn't have that pressure of having to win my first tournament or having to worry about making enough money to keep my card, stuff like that, where rookies have to think about that."