Colin Montgomerie: American golf fans 'not as knowledgeable'
Last updated on .From the section Golf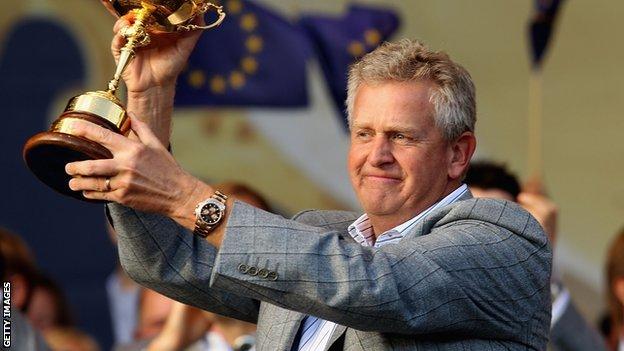 Colin Montgomerie has said golf fans in the United States are "not as knowledgeable" as those in Britain.
The 48-year-old Scot told BBC Radio 5 live he regretted his infamous run-in with the crowd at the 1997 US Open and blamed himself for the incident.
But he added: "I don't think the golf fans in America are members of golf clubs in the way they are here.
"At Wentworth next week, most of the fans will be golfers and understand and respect the etiquette of the game."
Montgomerie, runner-up at the US Open on three occasions, said he now enjoyed playing in the United States but that his reaction to abuse from the crowd at Congressional in 1997 had cost him "most of [his] career".
"The abuse from the American fans was my fault," he said.
"I regret one particular moment when I was leading the US Open in 1997 at Congressional and I did the unthinkable and answered back.
"I was the biggest [European] threat, and I was leading at the time and I got the abuse because of it.
"I made a mistake and answered back and I paid for it for about 10 years."
Admitting that he had sworn at a spectator, he added: "Somebody said the wrong thing at the wrong time, I'd just made a bogey, and I answered back and that was that.
"I enjoy going back now and there's more respect for me there now than there ever was before.
"But it cost me about five or seven years over there, which when you think there's three major championships there, tends to cost you most of your career."
Montgomerie, who has never won one of golf's four major championships despite five second places, says he envies Northern Ireland's Rory McIlroy for having got over that hurdle so early in his career, winning last year's US Open at just 22.
And he has words of caution for two of the UK's other leading golfers, Lee Westwood and Luke Donald, neither of whom has yet won a major despite having both been world number one.
"I had an opportunity [at the US Open at Pebble Beach] in 1992 when I was Rory's age [Montgomerie was 28] and it didn't happen and of course the pressure is then on, as has happened with Lee Westwood and is happening with Luke Donald.
"They need to break through now. Lee's 40 this year and you don't often improve over 40. Once he [wins a major] I think the floodgates will open, and I think he deserves one."
Montgomerie, who has eight European Tour Order of Merit titles to his name but last year failed to qualify for the Open Championship for the first time in 22 years, says he has taken more pleasure from team triumphs than individual success.
Speaking in Ryder Cup year - the 2012 competition takes place at Medinah Country Club in Illinois from 25-30 September - Europe's victorious captain from Celtic Manor two years ago says he "loves" the competition.
Named coach of the year at the 2010 BBC Sports Personality of the Year Awards, the Scot's record of 23.5 points is third on the all-time Ryder Cup list, while he has never lost in eight singles matches.
"I don't know what it is with me and the Ryder Cup," he said. "I much prefer being part of a team rather than an individual set-up."