Golf Show: Curse of the Journeyman pro
By Graham Spiers
Golf Show presenter
Last updated on .From the section Golf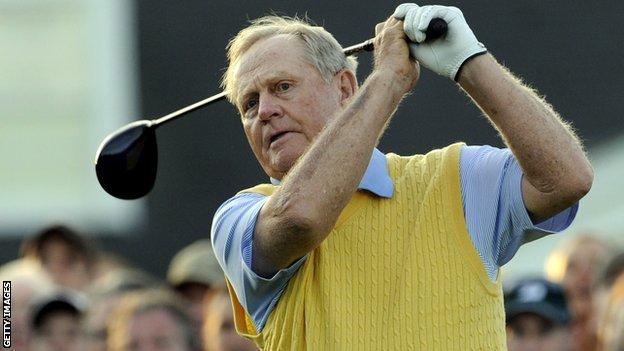 I always remember the withering comment of Jack Nicklaus back in the mid-1990s when professional golf really began to swill in sponsors' money.
Nicklaus had a gripe about the fact that the PGA Tour in America had a whole bunch of players - the middle-rankers - who would scarcely be known by the public, and had scarcely won a tournament, yet were absolutely rolling in it.
"It's too easy to become a dollar millionaire out here now," said the Golden Bear of the US Tour at the time. "You don't really have to push yourself too hard these days to make a very comfortable living out of the game."
Guys like Nicklaus and Arnold Palmer tended to look at golf through rose-tinted spectacles, back to an age in the late 1950s when golfers had to slog from tournament to tournament without today's riches.
This reflection tended not to tell the whole truth. But, nonetheless, there was something in it.
I'm sorry to admit that, when I look at the cast-list of Scottish professional golfers right now, I can't help recalling Nicklaus's comment of 15-plus years ago.
We've got a bunch of players slogging away on the European Tour who have made plenty of money but who are sometimes damned with the dreaded "journeyman" tag.
Last week, I interviewed Scott Jamieson, a top guy and a really good golfer, and I asked him about "making the grade" to a higher level of the game.
Jamieson, after only two years on the European Tour, has earned well in his career so far, but the holy grail for him remains - to ascend to something more than a little-known but wealthy golfer.
Last week on The Golf Show, we also had Stephen Gallacher in the studio. Gallacher, from a golfing dynasty, is also supremely talented, but I felt I had to put it to him that, having won only one event in 16 years on tour, it seemed a scarce haul of honours.
"It's not as if I'm not trying," Gallacher said when put on the spot about his lack of silverware.
The one tournament he did win - the 2004 Dunhill Links Championship - was a big one, carrying a fat cheque. But there is no doubt that he, like Jamieson and others, are striving hard not just to be rich but to be successful.
In Scotland, because we had the Torrance, Lyle and Montgomerie generation - and with Paul Lawrie making himself an Open champion in 1999 - we pine for another lot to make the breakthrough.
Lawrie, of course, is still going strong, while Glaswegian Martin Laird, still only 29, has a real chance of being something big in the USA.
Incidentally, Laird won $627,000 (nearly £400,000) for finishing second in the Players Championship last week. Enough to turn Jack Nicklaus green with envy.
Nicklaus's comment of years back had a slightly barbed edge. But you can see where he was coming from.
My favourite golf courses: Elie
This fantastic - and by no means easy - golf course in the Fife holiday resort is typical of the richness of Scotland's golfing landscape. Elie is one of those gems you savour going to play: it is short and linksy, boasting more than a few quirky and memorable holes.
Everyone knows about the first hole at Elie - you have to use a maritime periscope to peer over the hill to see if the fairway is clear for teeing-off. From there, you have three hours of enjoyable golf on a course whose greens seem to be in excellent condition virtually all the year round.
At the short 10th, you play an approach virtually down towards the rocky shore. Then the 466-yard coastline-hugging 12th taxes your longer game. I've played this golf course on baking summer days and wild winter afternoons and have never done anything but revel in the experience.
It helps, too, that in pubs such as the Ship Inn, Elie boasts a number of excellent post-match howfs.