Martin Laird makes breaking into top 20 his next target
Last updated on .From the section Golf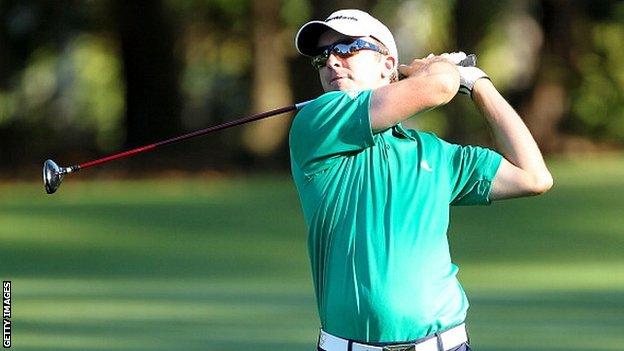 Martin Laird has made breaking into the world's top 20 his next target.
The Scot moved up to 31st in the rankings after finishing tied for second at the Players Championship at Sawgrass last weekend.
"If I look at how much I've improved since my first year on tour, my game has drastically improved in those four-and-a-half years," said Laird.
"A lot of guys don't peak until their mid-to-late thirties so I definitely feel that's something I can achieve."
Laird also finished second in the PGA Tour's opening event, the Tournament of Champions in Hawaii, and has a record of two wins on the tour.
"I do feel like I'm getting better every year," the 29-year-old told BBC Radio Scotland's The Golf Show.
"Aim for top 20 and then from there go for top 10; that's the way I go.
"If I keep working hard and keep putting the right people around me - I've got a great coach - I feel like I really can keep climbing those world rankings."
Laird believes he is "heading in the right direction" for Ryder Cup consideration and feels not being in the spotlight from a young age has helped him.
"I kind of snuck under the radar for a while in America," he added.
"I didn't have any pressure put on me by anyone expecting anything from me. Until I was in my mid-20s, no-one really knew anything about me.
"I think that's what hurts a lot of guys at a young age that are very good players and get labelled 'the next star'. It's a lot of pressure. I definitely never had that.
"I knew how good I could be or I believed I could get good enough where I could play in the PGA Tour but I never had to live up to any expectations.
"When you get to playing as long as I have now, a good few years as a professional, you know how to deal with things and know how to deal with being known in terms of expectations."