Golf Show: Paul Lawrie - golf's grafter
By Graham Spiers
Golf Show presenter
Last updated on .From the section Golf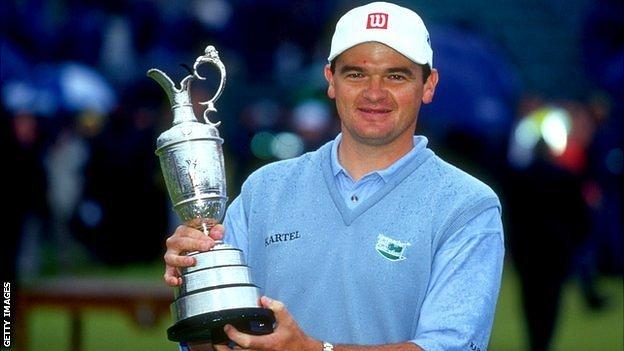 I'll never forget an English golf scribe - and a very good one at that - approaching me in the Carnoustie media centre in July 1999, just moments after Paul Lawrie had pulled off his amazing Open triumph.
"If you don't mind me saying so, Graham," he said with a heavy heart about Lawrie, "this guy is the original dour Scot."
I laughed at this at the time, though looking back it maybe said something about the perception of Paul Lawrie.
He has never been viewed - and never will be - as one of golf's colourful characters.
On the contrary, Lawrie's image is that of the grafter, the grinder, the guy who just refuses to give up, even after all these years, on conquering golf.
In fact, those who know Lawrie well find him extremely likeable and humorous.
Just four weeks ago I was at Murcar Golf Club in Lawrie's heartland in Scotland's north-east, and watched him meeting and greeting folk and being warmly lauded.
That day he was the very image of the feted local hero: someone the locals really loved and admired.
But the wider perception of Lawrie is fascinating again, given that, with every passing week, he is putting himself into contention for a European Ryder Cup spot in four months' time.
Does it matter, in fact, that Lawrie does not "turn on" the wider British golfing public?
This guy has shown amazing tenacity. He is back at 40th in the world rankings and has finally ended a nine-year winless run.
Lawrie always argued that his game was "there or thereabouts" but no Open champion expects to so quickly go years and years without a tournament win.
And not many golfers, to boot, make a Ryder Cup comeback after a 13-year gap.
I was at Brookline for that infamous encounter between Europe and the USA in 1999. Typically, I hardly noticed Paul Lawrie. That is his way.
I think Lawrie has long since accepted - and got over - the fact that, for some, his 1999 Carnoustie triumph will always have an asterisk attached to it.
Far more than his brilliant closing 67 on a tortuous course that Sunday afternoon, the memory of Jean van de Velde's final-hole calamity will endure.
Yet Lawrie, as well as being a brilliant golfer, has guts in abundance.
Whether he shouts it from the rooftops or not, it might prove to serve Europe well.
My favourite golf courses: Dundonald
On a stretch of Ayrshire coastline not bereft of fine courses - Bogside, Barassie, Western Gailes, Prestwick - I'd argue that Dundonald more than comfortably holds its own among such company.
The Kyle Phillips-designed course has not had its troubles to seek in its 10-year history, but these 18 holes are pretty thrilling to play.
Capable of playing to 7,000-plus yards at championship length, Dundonald is not short, but it has an excellent variety of challenge to whet the golfing appetite.
No golf course can go without memorable par-threes, and Dundonald, in fact, has two: the unnerving 'dunt' from the tee that is required on the 6th, and then the brilliant 120-yard 11th, with a stream up your left, the gorse up your right, and a two-tier green to aim for.
The long 18th, if money or the lunch-tab is still being played for, will also tax you, not least for the water that snakes in front of the green.
I've come to love playing Dundonald. It is a 'terrific track', as our American friends would say.
You can follow Iain Carter on Twitter.