Ernie Els apologises for Wentworth criticism at PGA Championship
Last updated on .From the section Golf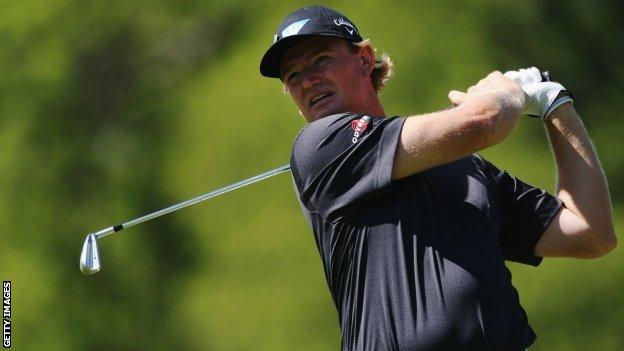 Ernie Els has apologised to European Tour officials for his outspoken criticism of Wentworth's greens.
The South African, who has overseen several redesigns of the West Course, was furious at what he perceived to be a lack of watering on Saturday.
An angry Els complained that his calls to soften the greens were ignored.
"Ernie Els asked to see me this morning and apologised for his intemperate language," said European Tour chief executive George O'Grady.
"He stated that he had already apologised to all the individuals concerned and offered a substantial donation to the European Tour Benevolent Trust, which I accepted.
"The European Tour now consider this matter closed."
Els, who has a house on the Wentworth estate, helped resculpt the course three years ago but his early changes received vocal criticism from a number of top players.
A few more minor tweaks this year were met with approval, but Els was furious with the hard, bouncy condition of the course for this week's BMW Championship.
"I asked them to put water on the greens, so put water on the greens," said the 42-year-old after his third round in baking temperatures.
"You don't have to be a rocket scientist to figure it out. The guys are not happy and I'm not happy.
"I landed my second at the 18th probably five yards too far. How much money did we spend on the 18th? We built a dam there. Why the hell was the green not holding?
"My point is, you hit a driver and then a four-iron gets you in the middle of the green. What else must you do next? Must I be the greenkeeper here?
"The Tour has got to play ball - it's not my job. The 15th green is holding, the 16th is not, the 17th is not, the 18th is not.
"They're all inconsistent. I can't keep talking about this. At some point they've got to listen. I do talk, but they don't listen.
"I can't control the wind and it seems like I can't control the greens staff either. They've seen the forecast almost a week in advance, but it's like talking to this wall behind me - I'm fed up.
"This is not a surprise. I've been talking since I landed on Monday - keep the moisture on the greens. It gets to me. I want everybody to have a fair and tough examination.
"Anybody who has half an idea in this game can walk to the 12th green and see - it's dead. Somebody is not doing their job. Why is this happening?"
Tournament director David Garland said on Saturday: "We want a tough and fair set-up. The greens have been hand-watered every night after play.
"This was done last night and because we knew that east winds were forecast, sprinklers were also put on every single green to give them more water.
"Because of the conditions, some fairways were also watered and tees were moved forward on the 13th, 15th, 17th and 18th."
Despite being bathed in sunshine over the first three days, the condition of the West Course has been causing concern following weeks of cold and wet weather.
Head greenkeeper Chris Kennedy said it had been "the most difficult build-up I have ever known".