Galgorm EuroPro event attracts former Walker Cup stars
Last updated on .From the section Golf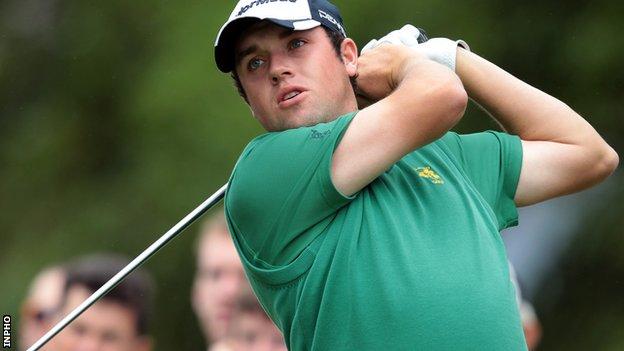 Galgorm Castle's PGA EuroPro Open in the coming week could prove a battle of several former Walker Cup stars.
The Galgorm field will include one of last year's winning Great Britain & Ireland side from Royal Aberdeen, Portstewart man Paul Cutler.
Cutler will also be joined at the Ballymena venue by 2007 Walker Cup man Clandeboye's Jonathan Caldwell.
Irishman Noel Fox is another entry as is his 2003 Walker Cup team-mate Englishman Stuart Manley.
Manley was on the Challenge Tour in 2011 and is hoping that a successful EuroPro season this year will see him returning to the second-tier of European golf.
His sporting efforts have also included football trials at 16 for Manchester United, Crystal Palace and Luton before he opted to concentrate on the smaller ball.
Fox was a serial winner at the top of the amateur game with six major GUI championships under his belt.
As a professional, Fox has made his mark on the EuroPro Tour having won the 2008 order of merit which included a wing at Faithlegg event in Waterford.
Fox finished tied 14th in the opening event of the season in Norfolk and then had a Challenge Tour outing in Austria.
Another interesting Galgorm entry is Scotland's Wallace Booth whose amateur career included helping his country win both the World and European Team Championships.
Local man Cutler has left nothing to chance in his preparation for the Galgorm event.
In addition to hitting plenty of balls, he has been working hard on his fitness with his personal trainer and 2003 world indoor athletics medallist Paul McKee.
Cutler's game has looked reasonably sharp so far during the EuroPro campaign and he will be hoping to replicate the brilliant form he showed at last year's Irish Open when he comfortably made the cut.
The Galgorm tournament starts with Tuesday's George Best Invitational pro-am and will include three days of tournament action before Friday's conclusion.
The event also forms part of the Northern Ireland Tourist Board's 2012 'Our Time, Our Place' campaign.
Despite the current difficult economic climate, the prize fund for this year's event has been maintained with £10,000 again going to the Galgorm winner.
This year's event will also offer free entry to spectators which will also include an event programme as well as a time sheet.
England's Chris Hanson captured last year's championship in a play-off after both he and Graeme Clark tied on 14 under par.
However, the course looks to have been toughed up for this year's event with some new tees and bunker likely to present some new challenges.
"The course is in great shape even with the very cold spring," says Galgorm Castle general manager Gary Henry.
"Fairways are tight with the rough punishing.
"Greens are running fast, the set up will challenge the players with the winner having to drive the ball well.
"We are really looking forward to kicking off a fantastic summer of golf."