Tiger Woods wins Memorial Tournament to tie Nicklaus
Last updated on .From the section Golf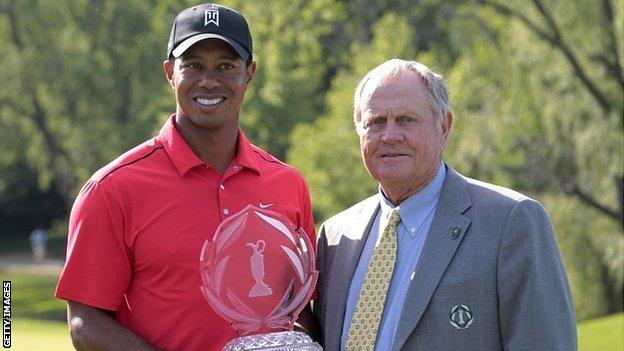 Tiger Woods conjured a piece of magic to clinch the Memorial Tournament and secure his second title of the year.
Woods's stunning chip-in on the short 16th was the decisive moment in a fifth Memorial win to equal Jack Nicklaus's total of 73 PGA Tour titles.
The former world number one shot 67 to end nine under, with Andres Romero (67) and Rory Sabbatini (72) two behind.
"That shot on 16 was one of the best I've ever seen," said Nicklaus to Woods behind the 18th green.
"Thanks, I appreciate it. Not bad, huh," Woods smiled back.
On drawing level with tournament host Nicklaus on 73 wins, Woods said: "It's special for me to do it here, to do it with Jack here. He means a lot to all of us as players.
"We all looked up to him, and he's the greatest champion that's ever lived."
Woods, who is still four wins short of Nicklaus's record of 18 majors titles, now has just Sam Snead ahead of him with 82 PGA Tour victories.
"It's been a pretty nice run since I turned pro," said Woods, who is 10 years younger than Nicklaus was when he recorded his last win.
"To do it aged 36 is not too shabby. I've been very proud of what I've done so far. I feel I've got a lot of good years ahead of me."
Of the chip on 16, from thick rough above a steeply sloping green with water beyond, Woods said: "It was one of the hardest shots I've pulled off.
If I leave it short, it rolls left, if I hit it long it's in the water. The lie wasn't that great. It came out just perfect."
Woods was four behind leader Spencer Levin at the start of the day but made a fast start with four birdies in his first seven holes.
He followed that with bogeys at eight and 10 before a further birdie on the 15th. Standing on the 16th tee he was still one behind new leader Sabbatini and seemingly in trouble after a wayward tee shot to the left of the green.
But his sensational birdie - accompanied by the trademark uppercut fist pump - followed by Sabbatini's bogey on the 16th in the final group behind, turned the tournament on its head. A final birdie on 18 sealed Woods's victory two weeks before the US Open.
"Boy, I hit it good," he said. "I never really missed a shot, I had the pace of the greens really nice and made a few putts."
Woods's victory follows his win at Arnold Palmer's Bay Hill Invitational in March, which ended a 30-month title drought after the turmoil in his personal life, a series of injuries and the rebuilding of his swing with new coach Sean Foley.
Levin, still chasing his first PGA Tour win, struggled on the back nine and came home in 40 for a round of 75 to end five under.
Woods's playing partner Rickie Fowler slumped to an 84 to end seven over.
England's Justin Rose carded 69 to end three under with countryman Greg Owen (67) two under and world number one Luke Donald (68) one under.