Captain Pat Cornett breaks ankle as US lead in Curtis Cup
Last updated on .From the section Golf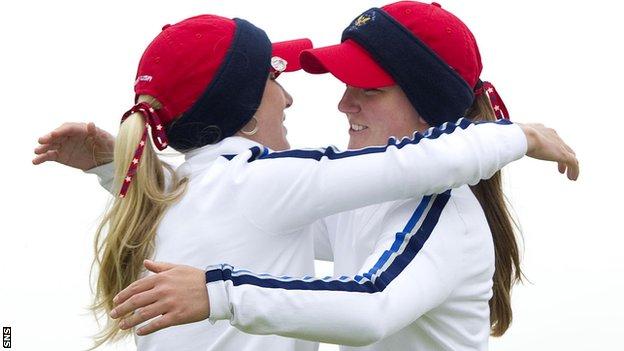 United States captain Pat Cornett intends to resume her Curtis Cup duties on crutches after breaking her ankle in a bizarre buggy accident.
The 56-year-old was a passenger in a cart when it crashed into a grandstand near the first tee at Nairn Golf Club.
Cornett watched her side win all three morning foursome matches against Britain and Ireland.
The hosts improved in the afternoon fourballs, winning two of the matches to trail 4-2 after day one.
Cornett, a professor of medicine, was taken to Raigmore Hospital in nearby Inverness where doctors put her right leg in a cast.
In her absence, 12-time Curtis Cup player Carole Semple Thompson, in Scotland as a guest of the US Golf Association, took over as captain.
"Despite breaking her ankle, Pat is in good spirits and ready to resume her captaincy," said Christina Lance, the coordinator of championship communications with the USGA.
Britain and Ireland were staring at a first-ever opening day whitewash in the amateur event when they trailed 4-0 after Amy Anderson and Emily Tubert defeated Charley Hull and Pam Pretswell 4 and 3.
But the partnerships of Kelly Tidy and Holly Clyburn and Bronte Law and Amy Boulden both prevailed to keep the contest alive.
"At one stage there this afternoon I was ready to slit my wrists as we were down in all three matches," joked home captain Tegwen Matthews.
"But seriously, it was a fantastic effort of digging in deep from my girls this afternoon. We had a frank and honest talk in the locker room at lunchtime."
United States 4-2 Britain and Ireland
Foursomes
Austin Ernst and Brooke Pancake (US) def. Kelly Tidy and Amy Boulden (B&I), 1 up
Amy Anderson and Tiffany Lua (US) def. Holly Clyburn and Bronte Law (B&I), 2 and 1
Lindy Duncan and Lisa McCloskey (US) def. Leona Maguire and Stephanie Meadow (B&I), 5 and 4
Fourballs
Amy Anderson and Emily Tubert (US) def. Pam Pretswell and Charley Hull (B&I), 4 and 3
Kelly Tidy and Holly Clyburn (B&I) def. Brooke Pancake and Erica Popson (US), 2 and 1
Bronte Law and Amy Boulden (B&I) def. Lindy Duncan and Lisa McCloskey (US), 3 and 2