Curtis Cup: Britain and Ireland beat United States by one point
Last updated on .From the section Golf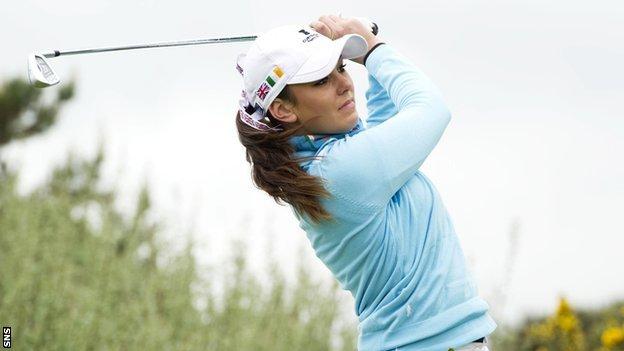 Great Britain and Ireland ended a 16-year wait for Curtis Cup glory by beating the United States.
The USA had taken a one-point lead into the final day at Nairn with the scores at 6.5-5.5.
However, the home players won the final day's play by 5-3, with Northern Ireland's Stephanie Meadow scoring the crucial point as she beat Amy Anderson.
It means Europe or Great Britain and Ireland hold all the major trophies they compete for against the USA.
The Curtis Cup joins the Ryder, Solheim and Walker Cups on this side of the Atlantic for the first time in golf history.
Britain and Ireland 10.5 - 9.5 United States
Singles
Kelly Tidy (B&I) def. Austin Ernst (US) 2&1
Amy Boulden (B&I) def. Emily Tubert (US) 3&1
Holly Clyburn (B&I) def. Erica Popson (US) 3&2
Lisa McCloskey (US) def. Pamela Pretswell (B&I) 4&3
Tiffany Lua (US) def. Bronte Law (B&I) 2 up
Charley Hull (B&I) def. Lindy Duncan (US) 5&3
Stephanie Meadow (B&I) def. Amy Anderson (US) 4&2
Brooke Pancake (US) def. Leona Maguire (B&I) 6&5