US Open: Paul Casey replaced by Andy Zhang aged 14
Last updated on .From the section Golf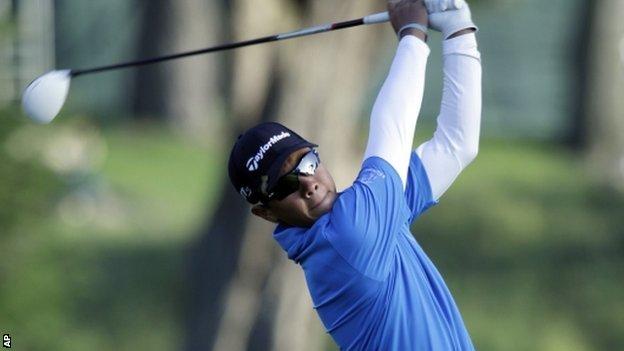 A 14-year-old will replace injured Englishman Paul Casey in this year's US Open which starts on Thursday.
China-born Florida-based Andy Zhang, who had missed out on qualifying in his own right in a play-off, is the competition's youngest player since the Second World War.
Casey, 34, dislocated his shoulder snowboarding on Christmas Eve and is not fully fit to play in San Francisco.
"It's affecting my ability to be ready for the test of a major," he said.
Zhang, who was second reserve, beats the record of Tadd Fujikawa, who was 15 when he qualified for the 2006 US Open at Winged Foot.
"[When I got the call] my mind just went blank," said Zhang. "Then, I said "Wait! What? I am in the US Open?"
He is due to play a practice round with Masters champion Bubba Watson on Tuesday, prompting his caddie Christopher Gold to say: "You can play with whomever you want. Why not Bubba?"
Zhang's coach Andrew Park said: "Andy hits it miles and miles.
"He's got a very good head on his shoulders. He couldn't speak any English when he got here, and now we can't keep him quiet."
Tiger Woods, who won the first of his 14 majors at the age of 21, said of Zhang's qualification: "I tried it when I was 15, but he went through both stages - he earned his spot.
"It's not too young if he did it and just think of the experience he is going to gain, how well that's going to serve him.
"What helps is technology - with video cameras, slo-mo, V1 kids can imitate. I grew up on VHF and you had to adjust the tracking. These kids are bringing out IPads to the range, watching their swing and breaking it down.
"In Korea I saw a few of these kids who had been playing for only a year, six months of it indoors hitting balls.
"All they did was put the club in the correct position to hit balls, hit balls, hit balls, and that's it. They come out and they have perfect golf swings.
"That's what's coming. That's the new generation. The swings are all going to look very similar and all these kids are going to have power.
"The game has become more global. I think that's where the biggest change has been. That's what's making this game so great."
Zhang will tee-off at 16:21 BST in Thursday's first round alongside Japan's Hiroyuki Fujita, 42, and 37-year-old Mark Wilson of the United States.
Casey, who has also been beset by rib and foot injuries in recent seasons, was ruled out for the first two months of the season following his accident in Colorado.
When he returned to competition he missed his first four cuts, including the Masters at Augusta in April where he shot rounds of 76 and 75.
He finished 25th in Korea later that month but then had to withdraw after nine holes of the Players Championship in Florida and pulled out of the World Match Play in Spain.
Rounds of 78 and 76 led to another cut at Wentworth's PGA Championship three weeks ago and Casey, who is down to 58 in the rankings, has not played since.
"You're always disappointed to miss time due to injury, but it's especially true when you have to withdraw from the US Open," said Casey, who was once world number three.
"I've been trying to play my way back and I feel like I probably came back too soon originally.
"I so want to play and it's so frustrating. I've got to get my brain to trust that I can't hurt it any more. It's amazing how the brain controls the body almost involuntarily."
American Brandt Snedeker has also withdrawn from this week's second major of the season.
The 31-year-old has a rib injury and will be replaced by amateur Jordan Spieth, 18, a member of last year's beaten American Walker Cup side in Aberdeen.