Rory McIlroy admits missing three straight cuts hit his confidence
Last updated on .From the section Golf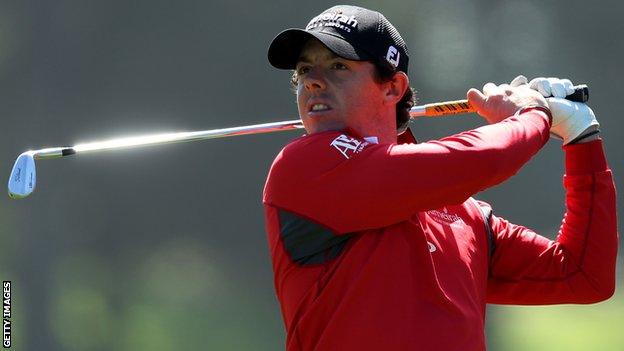 Defending US Open champion Rory McIlroy said he began to "question his game" after missing three straight cuts.
The world number two missed two cuts in America and one in Europe - failing to break par in any of those tournaments.
But the 23-year-old showed signs of recovery ahead of the US Open in San Francisco when he took a share of seventh place at the St Jude Classic.
"I think it's only natural you just start to question yourself and question your game a little bit," he admitted.
McIlroy hit a final-hole double bogey to blow any chance of winning the Memphis tournament but said he was just happy to have been in contention.
"That was a disappointing last few holes for me," said the Northern Irishman.
"But leading up to that point, I felt like I played some really good golf, and it was great to see.
"I hadn't played that sort of golf for a few weeks. It was nice to see that, especially coming into this week."
Three-time US Open champion Tiger Woods goes into the tournament bang in form after winning his 73rd PGA Tour title, at the Memorial.
Woods, who has not won a major in four years, went into the US Masters in April on the back of a win but says he is more confident this time.
"When I went into Augusta [for the Masters], I did not feel comfortable hitting the ball up and I got back into a lot of my old patterns. Unfortunately, it didn't work out," said the 36-year-old.
"What made playing Muirfield [for the Memorial tournament] so nice is that I had those shots and I was doing it the correct way. I had compression and I was hitting the ball high and hitting it long. That was fun."