Gary Wolstenholme speaks up for merits of amateur golf
By Phil Goodlad
BBC Scotland
Last updated on .From the section Golf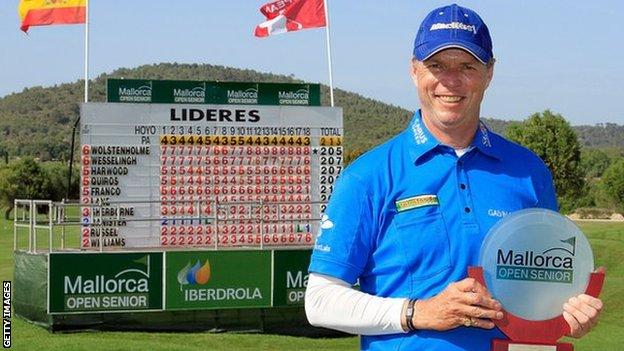 England's Gary Wolstenholme, a winner of multiple amateur titles, believes players need not move into the paid ranks to benefit from the game.
The six-time Walker Cup player is in Troon ahead of the Amateur Championship, a tournament he won twice before he turned professional at 48.
"It's not just about money but what the game is able to do for you. Amateur golf can give you so much," he said.
"You can play in Walker Cups, major championships and Eisenhower Trophies."
Wolstenholme played in six Walker Cup events, winning four, and competed in the US Open before turning professional.
He made the leap into the pro game for a number of reasons: he had fallen out of contention for GB and Ireland teams; there was no development role on offer to him in the sport, something he had hoped for; and work opportunities were limited that would allow him the time off.
"I was given this marvellous opportunity to compete - why would I want to turn professional?" said Wolstenholme, 52.
"I was a Corinthian in some respects. It wasn't so much the money, it was the opportunity for fame and glory.
"I enjoyed representing my country. My only regret is that I have never had the opportunity to compete in the Olympic Games."
Wolstenholme played alongside Luke Donald, Paul Casey and Graeme McDowell in his Walker Cup days, but he says he never felt jealous about the riches that his one-time team-mates have gone on to earn.
"It was me setting my goals, wanting to achieve the things that were going to last for ever," he told BBC Scotland.
"The record books will always be there. The fact that I represented my country 218 times and played in six Walker Cups - that is going to be hard to beat, if not impossible these days.
"I didn't take up the game properly until I was about 17. I was 23 handicap when I was 18.
"I didn't get to scratch until I was 23 and I played for England for the first time when I was 27.
"It has not allowed me to burn out. My drive is still as strong as it's ever been. I am a driven individual.
"My fear is to depart this world and no-one remember me. Hopefully, that won't be the case now."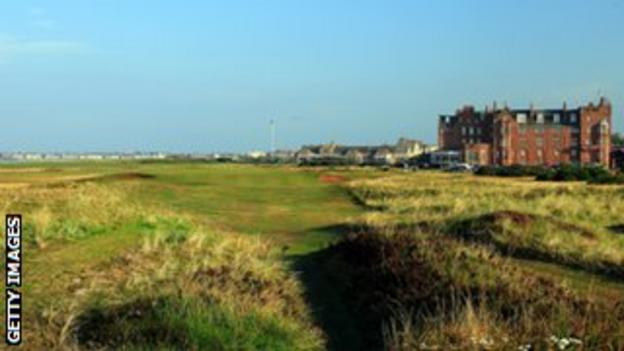 Wolstenholme, who won the second of his Amateur Championships at Royal Troon in 2003, cut his teeth on the professional European Tour when he switched from the amateur ranks but found it tough to be able to compete frequently.
"Because I was at the top of the tree as an amateur, there wasn't a tournament I couldn't play in, whereas as a professional you are starting at the bottom of the ladder," he said.
"There are very few tournaments that you can play in; you have to qualify for everything."
Wolstenholme has now won three European Senior Tour events and the Australian Senior Open and is pleased to "have started to make a name for myself in the professional game".
Having played golf around the world, he appreciates the challenge that the 288 players will face on Royal Troon to lift amateur golf's top prize.
"This is one of the great golf courses in the world," he said.
"The back nine is probably one of the hardest you will play anywhere.
"It will be a great test, not just of pure skill but nerve.
"This course presents everything that great championship golf should be. You've got to hit the ball straight, chip and putt well, control every part of your game.
"The weather is going to create a very interesting test. I am envious that we don't get to play much links golf on the Senior Tour."
On Monday, the field will play two rounds of strokeplay around Royal Troon and Glasgow Gailes.
The top 64 will then begin three days of matchplay and the two players left standing will go head-to-head in a 36-hole final on Saturday.