Jose Manuel Lara disqualified after caddie attempts to hide extra club
Last updated on .From the section Golf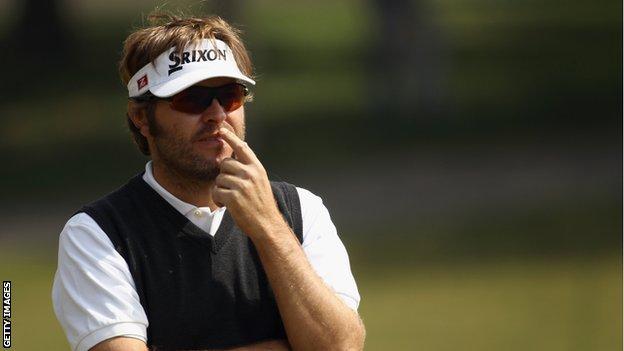 Jose Manuel Lara was disqualified from the International Open in Germany after his caddie tried to hide an extra club carried in the Spaniard's bag.
Argentine caddie Mathias Vinson tried to hide the club in thick bushes alongside the second hole, having realised Lara was carrying 15 clubs.
Lara was disqualified because a player is responsible for a caddie's actions.
European Tour chief referee John Paramor said: "We are satisfied [Lara] had no knowledge of what was going on."
The issue came to light when Vinson took a diversion from the fairway on the second hole of the Gut Larchenhof course in Cologne and Lara's playing partners, Damien McGrane and Peter Hedblom, became suspicious.
When challenged, the caddie admitted there had been 15 clubs in the bag.
"It was clearly the caddie doing what he felt at the time was the right thing, but was clearly the wrong thing," said Paramor, announcing Lara's disqualification from the $2.5m (£1.6m) tournament.
"He was seen entering the bush with the bag of clubs by his playing partners, who thought it was a little bit suspicious.
"They went and asked the chap, 'What are you doing?' and he sort of fumbled out an answer saying, 'I've got this wrong - I've done something bad. I wish it hadn't happened.'
"It was clear the club was out of the bag and in the bush at the time. He admitted it straight away and regretted his action."
Vinson had been delayed by traffic on his way to the course, and had to run the final three kilometres to ensure he arrived before Lara teed off. In his hurry, he failed to notice there were 15 clubs in the bag.