The Golf Show: Montrose among Scottish golf gems
By Graham Spiers
Golf Show presenter
Last updated on .From the section Golf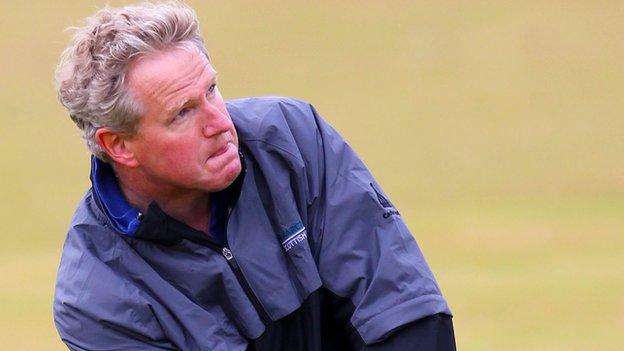 Our visit to Montrose Golf Club for last Sunday's Golf Show reminded me of how privileged many of us are to live and play golf in Scotland.
We turned up on Scotland's east coast to find the following, sparkling scene: breezy sunshine, a beautiful links, and the local community buzzing around as Montrose celebrated 450 years of the game beside its shoreline.
I've seen many such scenes across Scotland - on Arran, in Fife, in the Highlands, in the Borders - where the game of golf is played on varied and beautiful courses, most of them bequeathed to Scotland by the sheer random chaos of thousands of years of geology.
Certainly, our links courses, which owe next to nothing to man-manufacturing - save for their upkeep - are testimony to how lucky the Scots are to be indigenous to the Home of Golf.
Montrose is a classic example. It is, you would have to say, a relatively unsung golf course in many ways - yet it is a gem, and typical of what we have in Scotland. And it is all the more gratifying that the management committee there keep the costs down for local citizens who wish to take up the game.
You can play golf all year round at Montrose at reasonable cost with discounted rates available for OAPs - sorry to use the shorthand - and juniors, while all golf for under-eights is free.
If this is not fair and community-minded, then I don't know what is. And it is replicated in towns all over Scotland. The game of golf globally has a reputation for being middle-class and for a moneyed citizenry but this most certainly is not the case here.
You can be a little kid in this country, with no great pocket-money to throw around, and still be able to play the game on some of the finest golf courses in the world.
The more I think about it the more I see why Scotland should place a special emphasis on golf as one of the country's richest assets. By 'rich' I don't mean money - I mean culturally, in terms of community and hospitality. Golf is one of the greatest things to ever happen to Scotland.
Next week the Scottish Open is played again at Castle Stuart, when some of the greatest players on the planet return to the Highlands to compete for a king's ransom in prize money. It will be another showcasing of golf, when little Scottish kids can openly drool at the likes of Luke Donald and Ernie Els doing their stuff.
These kids have as good a chance as any in the world to play the game, become very good at it, and even one day line up in a Scottish Open themselves. Many of them - even in the Highlands - have the finest golf courses on their doorstep.
Last year, almost on a whim, I played Hopeman GC on the Moray Firth. What an experience it was, with the sun fading late on a summer's evening. It reminded me again of how privileged the golfing Scots are.