Phil Mickelson makes late entry to Scottish Open
Last updated on .From the section Golf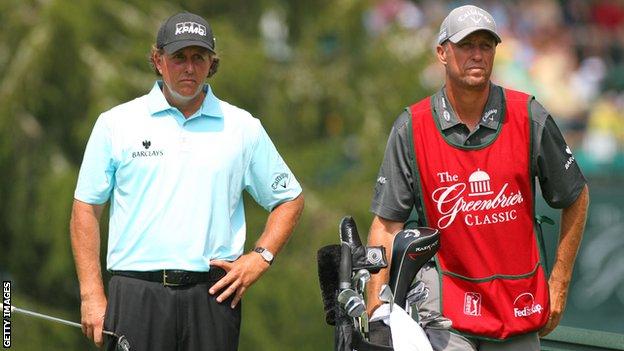 Three-time Masters champion Phil Mickelson is a late entry for the Scottish Open, which starts at Castle Stuart on Thursday.
The 42-year-old has been given the final sponsors' invitation after going seven consecutive rounds without breaking par, a career worst.
"I really have been off. I don't know what to say about that," the American said after the Greenbrier Classic.
"The parts don't feel that far off, but I haven't been putting them together."
He added: "It doesn't feel bad off the tee, it doesn't feel bad with the iron play, it doesn't feel bad chipping or putting.
"But I'm making a lot of loose drives here or there, some loose iron shots here or there, missing some short putts here or there."
Mickelson withdrew from The Memorial, finished only 65th at the US Open and then missed the cut - along with Tiger Woods - on Friday at White Sulphur Springs in West Virginia.
It was the first time Mickelson and Woods had crashed out early from the same event in their professional careers.
Mickelson came only 58th at Castle Stuart last year in an event reduced to 54 holes because of bad weather, but a week later was joint runner-up to Darren Clarke in the Open at Sandwich.
That was the 42-year-old's best-ever finish at the championship, although he ended up three strokes behind Clarke, whereas at Troon in 2004 he was only one behind play-off pair Todd Hamilton and Ernie Els.
Mickelson was a regular at the Scottish Open through his tie-in with the previous sponsors when it was held at Loch Lomond.
England's Luke Donald will defend the title at the event, which was played at Castle Stuart, near Inverness, for the first time last year.