French Open: David Howell buoyed by finish in Paris
Last updated on .From the section Golf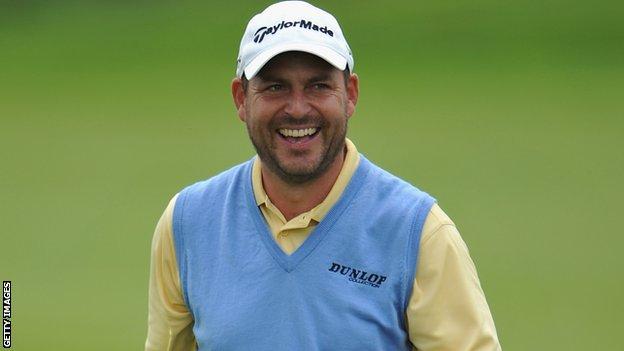 Wiltshire's David Howell says he is back to his best form after finishing joint fourth at the French Open.
"There's a tinge of disappointment not to have played well enough to win but it's not an easy round," he said.
"But this going to push me up the rankings and that will boost my already raised confidence."
Howell hit bogeys at the first and third holes in the final round in Paris, but he was pleased with his recovery.
"I had a tricky start but from then on I played beautifully," he continued.
"I just couldn't hold a putt through the front nine. When they didn't go in I was up against it to win.
"But the plan is to keep making cuts and getting myself in positions. Eventually tournaments will come your way but you can't expect to snap one up from nowhere."
Howell was ranked ninth in the world in 2006 but injuries and lack of form have seen him slip to 350th.
Sunday's result was his first top-10 finish in a year and he admits: "I was waiting for a good week to come along.
"It's hard to stick yourself back in the mix when you haven't been up there for a while.
"Tiger [Woods] lives in that world along with the likes of Lee [Westwood] and Luke [Donald]. It's that bit easier for them on a Sunday and they've earned that right.
"Things have been tough for a few years but they've been on the up for the past few months."